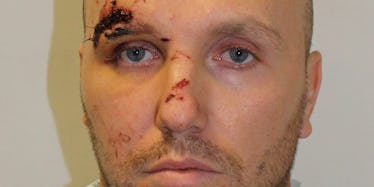 Father-To-Be Tries To Kill Pregnant Fiancée By Stabbing Her In The Face
Metropolitan Police
London hotel worker Petar Petrov plead guilty to attempted murder yesterday, January 11, after brutally stabbing his pregnant fiancée in the face this past August.
31-year-old Petrov jumped out of a first-floor window following the incident. Neighbors heard the sound of his body hitting the ground following an "hour-long argument" and decided to alert the police.
They found Petrov "lying in a pool of blood" on the floor outside of the building. After he was taken to the hospital, medics at the Royal London Hospital said he had injuries consistent with "falling from a height and self-inflicted wounds."
He was arrested shortly after his hospital visit.
Other neighbors came straight to the site to see what was going on, and that's where one of them found Petrov's partner lying on the floor of the apartment "with head and neck injuries."
They took her to the hospital with "life-threatening injuries including several facial fractures, severe bruising of the lungs and a stab wound to the face."
One miracle did take place amidst all of this alarming brutality: Doctors performed an emergency C-section, and the baby did not have any physical injuries.
That being said, the baby's mother is still in the hospital — five months later — in a vegetative state as a result of her partner's attempt on her life.
Addressing this horrific incident, Detective Inspector Chris Skelt noted,
This has been a truly shocking case. It is incomprehensible to think that a father-to-be could carry out such a violent and horrific attack on his fiancé knowing she was carrying their baby. I would like to commend the members of the public who were first at this distressing scene, and who performed first aid on the injured parties and called the emergency services. Their quick actions and bravery were crucial in getting the victim the medical attention she needed, saving her child's life.
Detective Inspector Skelt is right.
Through all of this darkness, one lesson can be learned: DO something if you see one of your fellow human beings facing danger. Your action could save a life.
Citations: Boyfriend tried to murder pregnant fiance by stabbing her in the face (Metro.co.uk)