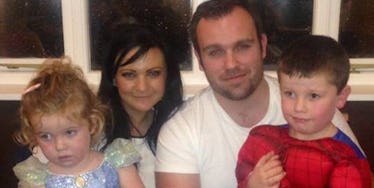 Father Surprises His Kids With Most Heartwarming Christmas Present Ever (Video)
In two weeks, the Internet will be inundated with adorable videos of parents surprising kids with puppies for Christmas, but in the meantime, treat yourself to a video of a parent treating her kids to another parent for Christmas.
Ruth Stevens covered her husband, Scott, in festive wrapping paper and called her children downstairs to see the early gift Santa's elves brought them.
Concerned primarily with how the elves carried a present so massive from the North Pole to their house, the children eventually tear away the paper to find their father, on leave from Navy duty, home for Christmas.
Elf brought daddy home early for Xmas Scott Lee Stevens Posted by Ruth Stevens on Sunday, December 6, 2015
Top this, puppy presents.
Citations: This Dad's Christmas Surprise Is Proof You Already Have the Greatest Christmas Present (Cosmopolitan)