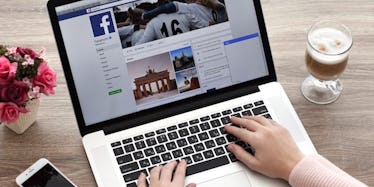 Annoying Facebook Sound Update Means You Can No Longer Secretly Scroll At Work
Shutterstock
If you're someone who likes to kill time at work by scrolling through your social media feeds, I have some bad news for you.
Facebook is rolling out a new update that will make it a lot harder to low-key stalk your ex and his new girlfriend on Facebook throughout the work day.
That's right.
Today, Facebook announced it will be making a few changes to its video platform, including a new default setting that makes videos automatically autoplay with sound.
This basically means that your phone or computer will start blaring sound every time you scroll past a video, unless you have your devices set to silent.
If you're not into giving the world an earful of your news feed, don't worry.
It turns out you can restore your Facebook feed to its discreet settings by simply turning off the video sound feature.
If you're someone who likes to listen to music while you scroll through your feed, you'll also be glad to know that the update won't disrupt your tunes.
Facebook told The Verge that sounds from its videos will not interrupt music from other mobile audio source like Apple Music, Pandora or Spotify.
Facebook's Vice President of Partnerships, Dan Rose, said the social media platform does not want to upset users with the new changes.
During Recode's Code Media conference, Rose said, "We're going to honor the sound settings on your phone. If sound is on your phone, we'll default to sound on rather than off."
As you can imagine, some people expressed concern about the new sound setting causing trouble for those who unknowingly scroll through their feeds during class or work.
However, Rose addressed these concerns, stating, "A few years ago when we started autoplay it was very new to people. Now they're pretty conscious."
Basically, people can secretly scroll through their news feeds by switching their device vibrate or silent to ensure their browsing remains low key.
But if you're worried about accidentally blowing up your spot, Facebook says the sound feature can be turned off by toggling the "Videos in News Feed Start With Sound" option found in the settings panel.
Facebook hopes the new video sound update will encourage users to watch more videos on their feeds and provide people with a multi-media experience that emphasizes both the audio and visual aspects of the platform.
Citations: Facebook videos will now automatically play sound by default (The Verge)