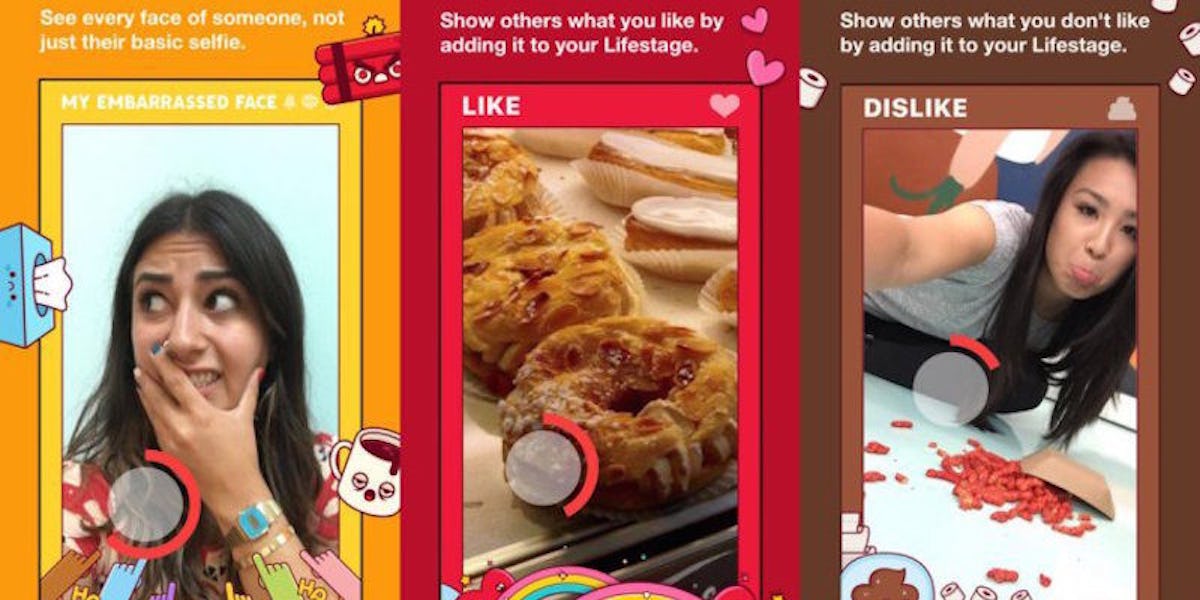 Facebook Launched A Snapchat-Like App, But You Have To Be 21 Or Under To Use It
Facebook / Lifestage
Facebook launched an app exclusively for the under-21 crowd, in case you needed another hint teenagers, like, really don't like Facebook.
Facebook is clearly scrambling for teen users, who have largely avoided the social media platform, especially because it's filled with olds like me. At least, that's what my 16-year-old cousin tells me.
You don't have to be a tech genius to see this is a ploy to grab the next generation.
So, Facebook launched Lifestage, an app for people under 21. It was built by 19-year-old Michael Sayman, so there's a chance it might actually be cool since it was made by a fellow teen.
Basically, how it works is it's just a profile full of videos. You answer questions in videos, and then people can look at them.
You can't actually interact with anybody directly on Lifestage. There is no messaging feature. Instead, it connects you to other platforms like Snapchat and Instagram.
As far as I can tell, Lifestage is Snapchat if Snapchat were only stories with prompts. A feed -- that looks an awful lot like the Snapchat "send to" screen -- tells you which friends have updated their profiles so you can check out their new work.
There's also apparently an easy way to report older users and get them kicked out, so hopefully that will get creeps and lame old people out of Lifestage very quickly.
The app also has school-based features. You select your high school when you sign up, and then, you can see other people from your school.
In that way, it's kind of like a non-anonymous Yik Yak. Yik Yak's anonymity hurt its reputation as people used it to post bomb and shooting threats, along with spreading rumors and gossip. Lifestage will not have that sort of problem.
But it's not difficult to imagine what other problems will arise from an app for teenagers featuring selfie videos.
At least without a messaging capability, Lifestage will be free from the responsibility of watching for bullying and harassment, but that doesn't mean it won't happen outside of the app.
Then again, those worries might just be cynical, old me talking. Perhaps Lifestage will be a magical land full of fun, personal videos where you can learn about your classmates without any repercussions.
But you know, experience really tells me otherwise.
Citations: Metro, Tech Crunch