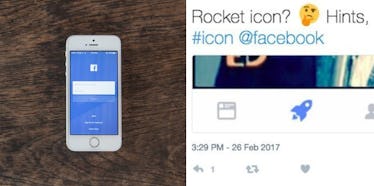 FB's Secret News Feed Means You're Less Likely To See Obnoxious Engagement Pics
Shutterstock/Twitter
Facebook is trying out something completely new, and it involves a tiny rocket icon that might appear on your app (at the top or bottom of the screen, depending whether you're using Android or iOS).
Some users have noticed the rocket between the news feed and videos icons, but it isn't immediately clear what this icon actually does.
However, TechCrunch reports the social media site is testing out a secret second news feed — and it's about to change the way you mindlessly scroll through Facebook.
Apparently, the rocket news feed uses different algorithms than your normal feed, which effectively shows you what Facebook thinks you want to see, creating a bubble.
The new feed shows popular videos and images based on your preferences and things you've liked, or things your friends have liked. So, this means it doesn't necessarily have to be all of those engagement photos over and over. It'll be things you like.
It doesn't matter if you like or follow the sources, either. They'll appear in this feed regardless.
However, at the moment, the rocket is only a trial available to a small percentage of users, and Facebook is figuring out whether to make it available for everyone.
There is still time before this becomes a thing... or not.
A spokesperson for Facebook told Elite Daily,
We are testing a complimentary feed of popular articles, videos and photos, customized for each person based on content that might be interesting to them. We've heard from people that they want an easy way to explore new content they haven't connected with yet.
The secret feed will show posts from Pages and media outlets that you don't normally keep track of, but are similar to other things you've liked or viewed on the social site.
So not only will it lift you out of your personalized Facebook bubble, but you might discover something new that interests you. It won't just be all of your friends' engagement photos anymore.
Pretty cool, huh?
Citations: Facebook tests a second News Feed headed by a rocket ship icon (TechCrunch)