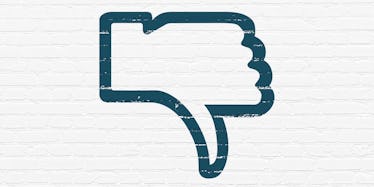 Facebook Finally Adds Dislike Button After All These Years So Haters Gonna Hate
Shutterstock
It's finally here (kinda).
For years, Facebook users around the world have long wished for the one thing Mark Zuckerberg always refused to give us -- a good ole dislike button.
I'm not even sure what the logic is behind being anti-dislike button anyway. I mean, isn't it healthy for people to grow up learning sometimes people are going to disagree with or dislike things you say?
I like to think so! Call me crazy, but one effective way to breed a planet of raging narcissists is to exclusively include a like button on one of the biggest social media platforms and NOT a dislike button.
Apparently, someone else at Facebook agrees. This means we can all stop bitching now (kinda). There is finally a dislike button you can use to get your point across, avid Facebookers.
According to TechCrunch, the social networking giant has been working on adding reactions to Facebook Messenger. Similar to "tap back reactions" for iMessage, users will be able to react to messages using a slew of new emoticons.
Reactions for Facebook Messenger will be made up of seven new emoji: heart-eyes, lol, wow, sad, angry, thumbs-up and thumbs-down.
For those who have been dreaming of one day being able to dislike something on Facebook, that thumbs-down emoji will be your new best friend.
Now, I know what you're thinking because I thought the same thing. Does this mean you'll be able to "dislike" posts on your Facebook news feed? The answer is "no," which is why I keep saying "kinda."
Coincidentally, the thumbs-down emoji for Facebook Messenger is meant to mean "no," not that you dislike something, according to Facebook. If I could, I'd "dislike" that statement.
TechCrunch's Josh Constine reports,
Facebook sees it as more a "no" button, the company tells me. It says people often use Messenger for planning and coordination, and it's experimenting to see if a reactions are helpful for quick logistics and voting. Thats why it's offering a Yes/No option, even though people will naturally see it as a Dislike button too.
The new feature is currently being tested on a select group of Facebook users. If testing concludes that it is useful, Facebook will roll the feature out to the rest of its Messenger users.
A rep for Facebook told Constine,
We're always testing ways to make Messenger more fun and engaging. This is a small test where we enable people to share an emoji that best represents their feelings on a message.
I reached out to Mark Zuckerberg (not really) for comment on the fact the new feature isn't exactly what we were all hoping for, and I got this GIF instead.
Whatever. Thanks for kinda-sorta making our dreams come true, Facebook.
Citations: Facebook tests reactions and Dislike button (!) on messages (TechCrunch)