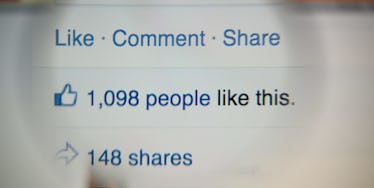 This Facebook Bug Is Showing Some Users How Many People Saw Their Posts
Shutterstock
HOW COME MY STATUS HAS 456 VIEWS AND ONLY 3 LIKES, FRIENDS???
A view count on videos is a familiar feature on Facebook, but certain users are now seeing everyday text and photo posts get the same treatment.
Some individuals are apparently seeing the number of views their posts receive pop up next to their likes and comments indicators, in the same count format as video posts.
Even users with posts set to "friends only" are reportedly experiencing the new feature.
What is happening, however, is not an intentional addition but rather a bug Facebook is reportedly working on fixing.
The bug is reminiscent of a Twitter update from 2014 that allowed certain users to see how many times their tweets were viewed or how many times links within their tweets were clicked. The feature, called "Tweet activity," also includes Twitter standards like favorites, retweets, replies and profile visits.
Facebook users whose profiles are not victims of the bug will likely not see the count at all as the site is reportedly aware of and handling the issue.
Citations: Facebook bug reveals how popular you REALLY are: View counts are appearing below posts on the mobile site (Daily Mail)