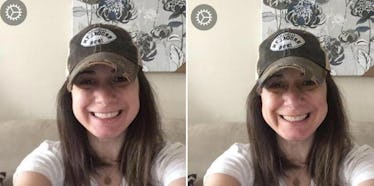 FaceApp Just Might Be More Addicting Than Those Snapchat Filters
Danielle Valente
We know it's hard to resist the temptations of Snapchat... but have you tried FaceApp?
OK, OK, here us out...
We love the animals on Snapchat as much as you do...
...but your faux furry friends aren't the only zany options for selfies.
When we're given the ability to morph into an animal, we're quick to seize the opportunity, but if you've been overusing those funky features in your snaps, FaceApp can actually serve as a decent alternative — but still a funky one.
"We developed a new technology that uses neural networks to modify a face on any photo while keeping it photorealistic," FaceApp founder and CEO Yaroslav Goncharov told TechChrunch. "After applying a filter, it is still your photo. Other apps intentionally change a picture in a way it is entertaining, but not a real photo anymore."
What are you insinuating about those cat and dog photos, mister?
By heading into the Apple App Store or Google Play, you can download the face-flopping new sensation and take a gander for yourself.
Maybe you'll try to make yourself look younger (ah, a simple version of Photoshop, huh?) or you can get rid of a feature ... like your teeth. Hey, we're talking social media selfies after all, let your creativity run wild!
So, to see what all the hype was about, I decided to give it a whirl.
Now keep in mind, I've been up writing since 7 am — but in the name of journalism, I will bless you all with the great gift of the unflattering photo. You're welcome.
OK, so here I am looking "normal."
I'm not wearing the hat for style — I'm wearing it because my hair is 99 percent dry shampoo.
Now, if you really want to feel flattered, try using the "old" option — it's a blast.
This is great for your self-esteem. I had imagined aging a little more gracefully, but according to FaceApp,  that ain't happenin'.
Since I hadn't felt humiliated enough, I decided to see what I'd look like as a guy
And it turns out, it's kinda like my "normal" photo. That's fantastic!
So FaceApp is definitely a fun way to change things up if you're tired of too many cat ears on your snaps.
For now, I am going to continue snapping anything on social media that's not my face. Thank you kindly, FaceApp.
Citations: What Is FaceApp? The Internet Is Obsessed With This Face-Morphing App (Bustle)