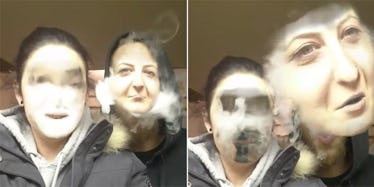 These People Tried To Face Swap While Vaping And The Craziest Thing Happened
YouTube
This is the only time I've enjoyed anything to do with the concept of vaping.
Vaping is probably the worst trend out there. It mixes the douchey ability to throw technology into everything we do with the fact the WORST people you know are probably, at least, a little bit obsessed with the concepts of smoke and mystery.
Vaping is a perfect storm of miserable activities, and the fact it's picking up steam as a trend is infuriating.
This video is pretty funny, though. I'm actually kind of happy vapers can't do face-swap stuff. Leave that joy to us non-vapers! You can keep your lithium ion batteries and fedoras.
Citations: FACE SWAPPING WHILE VAPING PRODUCES SOME REALLY REALLY ODD RESULTS (MTV)