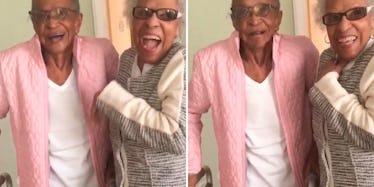 These Adorable Great-Grandmothers Have Been Best Friends For Over 70 Years
Listen up, these two ladies you're about to meet are the most powerful people on this planet. I know it.
I know it because lady friendships are the most powerful, magical bonds ever known to humankind, and Jane and Lil have been best friends for 71 YEARS! That's seven decades of mad power they stored up!
Jane is 102 years old, and Lil is about to turn 100. And yes, Jane said, they know they are fabulous. They can't help it!
Look at them hug and smile and joke! Feel your soul get healed by these incredible women.
my great grandmother who'll be 100 next month (on the right) & her best friend who is 102! 71 years of friendship pic.twitter.com/gZvhCiXa4v — Kamari Copeland (@Kamaricopeland) February 9, 2016
I am in awe of their beauty and power, honestly.
jane & grandma lil. these two babes went viral. friendship goals indeed pic.twitter.com/yqnn9XhrPd — Kamari Copeland (@Kamaricopeland) February 10, 2016
Apparently, a lot of other people were in awe, too.
how did my granny go viral? — Kamari Copeland (@Kamaricopeland) February 10, 2016
The video went viral when Lil's great-granddaughter, Kamari Copeland, shared it on Twitter this week.
In the video, Lil said she and Jane have been BFFs since 1945, meaning they met when Jane was 31 and Lil was 28. It's nice to know there's still hope for a lifelong bestie even if you don't meet ~the one~ until after school.
Of course, I know my pale skin has no hope of looking THAT fabulous if I live to 100, so my future bestie and I can just strive to be half as fabulous as Jane and Lil in spirit.
For more fabulous grandparents, check out the video below. [video id="1622121"][/video]
Citations: Watch These Cool Great-Grandmas Celebrate 71 Years of BFF-Dom (Cosmopolitan)