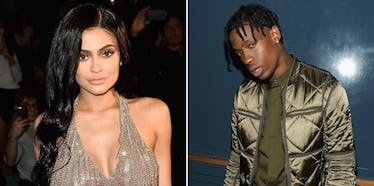 Everything You Need To Know About Kylie Jenner's Reported Baby Daddy, Travis Scott
Nicholas Hunt/Bryan Bedder/Getty Images
By now you may have heard the news that broke the internet: Kylie Jenner is reportedly pregnant, as first reported by TMZ. (Elite Daily reached out to Jenner and Scott's teams for comment on the reports and did not hear back by time of publication.) If you try to limit your intake of the Kardashian/Jenner family, you may not know who the father of Kylie Jenner's baby is, though he'll be familiar to fans.
King Kylie is reportedly expecting her first child with her boyfriend of five months, Travis Scott. Unnamed sources claimed to People that the two lovebirds are "really excited" over their impending bundle of joy."This is the happiest she's ever been," a source told the publication of Jenner, who is reportedly due in February.
Here's the backstory: After a back-and-forth courtship of several years, Kylie and her ex long-term flame Tyga broke up back in April. The 20-year-old beauty mogul immediately moved on with Scott. The 25-year-old rapper, born Jacques Webster Jr, hails from Missouri City, a suburb of Houston, Texas. He attended The University of Texas at San Antonio (shoutout Roadrunners) before dropping out to become a rap (and future reality) star. He already has a collaboration with Justin Bieber (on the album Purpose), a Grammy nomination, and summer hits like "Goosebumps" and "Butterfly Effect" under his belt.
Jenner and Scott were first seen together at Coachella Music Festival in April, and the pair instantly became an item. In the past, Scott is rumored to have romanced Rihanna and model Karrueche Tran.
Musically, Kylie Jenner's beau Scott credits Kid Cudi, M.I.A., T.I., and Kanye West as influences. That last one is a relief, because he may soon become related to West as an official member of the Kardash/Jenner Klub. Ironically enough, Kimye is also rumored to be expecting a little one in the near future, via surrogate, though that news hasn't been confirmed yet either. So at least we know if Kylie is having a kid, they will probably have someone to play around with, if  Mason, Penelope, Saint, and North aren't already enough.
The Kardashians are reportedly very approving of Scott as a boyfriend. "He treats Kylie with a lot of respect and love," a source told People. What else do we know about his personality? Scott recently volunteered for a Hand In Hand charity telethon and fundraiser for victims of Hurricane Harvey, which devastated his hometown with floods and tornadoes.
Sounds like a mature and caring soul. Scott also took to Twitter to encourage his fans to support his old stomping ground.
Scott's got another quality that bodes well for his rumored future fatherhood: He's not afraid to make a permanent commitment.(First comes baby, then comes marriage?) Jenner and Scott are so smitten with each other, they got matching butterfly tattoos on their ankles in June.
Personality-wise, he appears to be affable, respectful, and even goofy. The guy loves a Fruit by the Foot every once in a while, so that makes him just like all of us.
And apparently, he walks at a supernatural pace. "Everybody is always chasing Travis. And I mean this in the most literal way possible," wrote Complex in their cover story chronicling Scott. "I have never seen a faster walker in my life—just pure, lean, kinetic energy, propelling itself forward. In fact, he's not so much walking as he is bouncing laterally, hunched and gangly. During my four days (spread out over the course of four weeks) around Travis, nobody once breaches his immediate radius, as if there is some type of invisible force field surrounding him the second he decides to move."
Clearly, King Kylie has not only been able to get into Scott's personal space, but also has no problem keeping up with him.