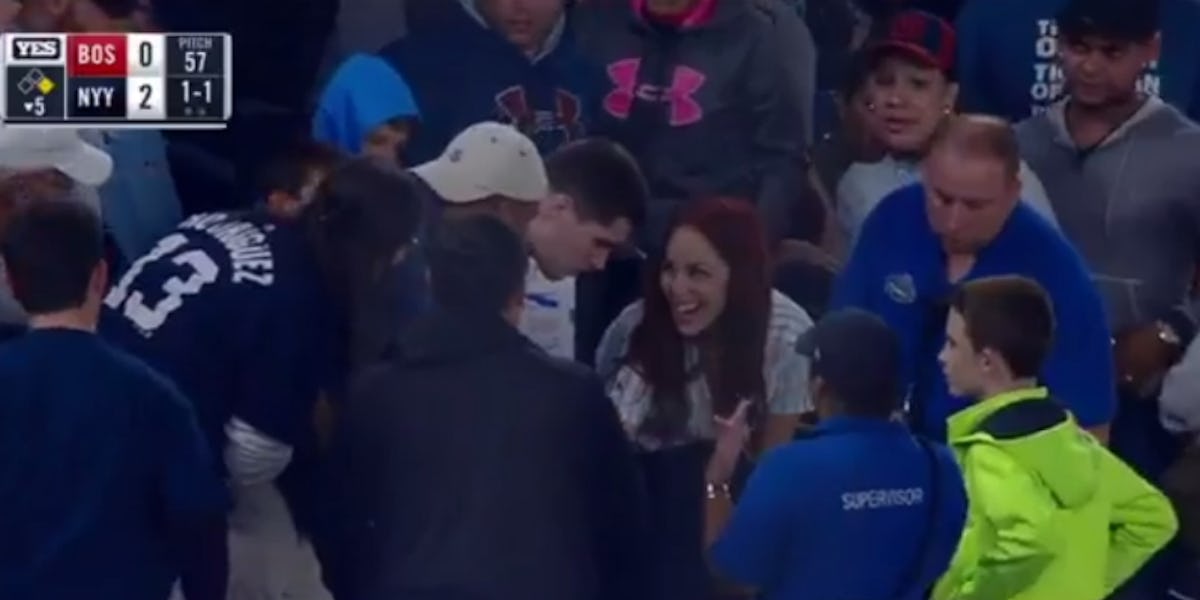 Fans Helped BF Find His Engagement Ring At Yankees Game After Proposal Fail
Twitter
Now, being proposed to at a baseball game isn't something that I would enjoy, but to each their own.
But I think we can all agree that being proposed to at a baseball game and having the question-popper drop the engagement ring is definitely something we don't want to have happen.
During the fifth inning of the Yankees-Red Sox game, Andrew Fox took to one knee to ask Heather Terwilliger to marry him.
This is a moment that the couple probably daydreamed about for years. With their mutual love of baseball, this was just a natural choice, and something fun to tell the grandkids.
Except, when Fox opened up the ring box, the ring made a run for it. It bounced once, then disappeared.
Surely, not a bad omen...
My favorite response to this came from the announcer: "Aw, that poor guy! Congratulations."
Fox described the moment, saying,
I saw the message on the screen, I was like, baby, stand up. She knew what was happening. I was really happy and excited and when I opened the box, everything got crushed. I went from really happy and excited to the most depressed you can be in like a second. It probably only took about five minutes until it was found, but it was the worst five minutes of my life.
His now fiancée added,
I didn't know what to think. I was in shock. I started panicking with him. I didn't know he was serious at first. He started almost crying.
Fox admitted he was crying.
Fans around the couple desperately tried to help to find the ring, but it turned out it was in the cuff of Terwilliger's pants the whole time.
I just looked down. Where could it have gone? I saw the shine and I was like, 'Wait a minute.'
Fox admitted,
I appreciated everyone's efforts, because I was not finding it myself. I worked until four this morning and then we came all the way here. I'm tired. I wasn't going to find that ring on my own.
He had been working at a postal distribution center on the overnight shift in Pittsburgh before the couple, both 29 and both Virgos, flew to New York to attend the game. It was a belated birthday gift for Terwilliger.
On top of the happy couple becoming engaged, they were even named "Fans of the Game" in the seventh inning stretch.
Congratulations! Sorry we were kind of laughing at the video though.
Citations: Video: Man tries to propose to woman at Yankees game, loses ring (NY Daily News)