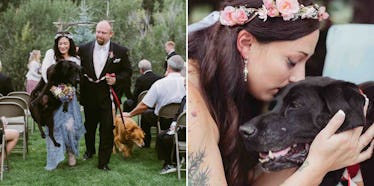 Dog With Brain Tumor Lives Just Long Enough To Watch Owner Get Married
OK, weddings are weepy enough, but add a dying dog into the mix and everyone's straight up screaming into a pillow.
Meet Charlie (you may as well just start crying now to build up a good momentum of tears).
He was found abandoned 15 years ago in a shopping cart and taken into a loving home by Kelly O'Connell.
Earlier this month, Kelly got married to fellow veterinarian James Garvin.
They walked the aisle in Buena Vista and exchanged vows in a beautiful ceremony captured by Jennifer Dziuvenis of JenDz Photography.
Charlie made it as well, which was kind of a miracle because he had a brain tumor and was in the last days of his life.
Charlie had no trouble walking down the aisle, but when the time came to walk back, he couldn't muster the strength. The bride's sister was there to assist.
Kelly said, "I just kept saying, 'you made it buddy, you made it.' He just had a giant grin on his face."
She was reunited with Charlie after the ceremony, for one of the last times.
Wait, is Charlie crying as well? I can't even.
Speaking of the how it felt to capture the emotional scenes, Jennifer told Elite Daily,
I am SO happy I was able to capture that moment for them. The maid of honor is a dear friend of mine and I've known the family (and their love for their animals) for a long time. Being able to capture that incredibly beautiful, incredibly emotional moment was probably the best thing I've done thus far in my photography career. Moments like these are why I do what I do. I was watching this all unfold behind the camera, crying my eyes out right along with them. That moment was such a powerful display of love - for family, for animals, etc. And it just happened - nothing about that was staged. It was really powerful.
Charlie passed away just days after the wedding. RIP, big man.