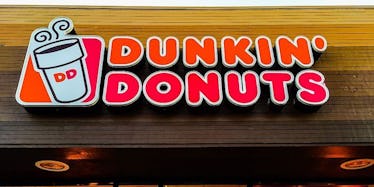 Dunkin' Donuts Might Be Changing Its Name To Something You've Already Called It
Bob Berg/Getty Images
When you think of Madonna, Prince, and Bono, you typically think of iconic stars. Sure, they're talented, but you think of them as stars because they did what only stars do: have one name. Joining the ranks of the one-named cool kids is none other than Dunkin' Donuts, which might drop the "Donuts" and just be named Dunkin' at a new California store.
If you think the name change means changes to the store's iconic menu, you can calm down, because your precious Dunkin' donuts aren't going anywhere. In fact, only one new store set to open in Pasadena, California will be named "Dunkin'" for now, but Fortune reports the name might also be tested at a few other locations.
Let's be real, most of you probably call it Dunkin' already, so this shift to rebrand is giving us what we all wanted. Apparently, Dunkin' Donuts has been calling itself Dunkin' for some time now, too. Here's what they said in a statement to Nation's Restaurant News:
We have been referring to ourselves simply as Dunkin' in our advertising for more than a decade, ever since we introduced our 'America Runs on Dunkin' campaign.
Dunkin' Donuts is supposedly trying to compete with big stores like Starbucks Coffee, who are beverage-focused and offer a wide variety of items on their menu. They said,
While we remain the number one retailer of donuts in the country, as part of our efforts to reinforce that Dunkin' Donuts is a beverage-led brand and coffee leader, we will be testing signage in a few locations that refer to the brand simply as 'Dunkin'.'
To be honest, I really love the name change. I think it makes the brand seem a lot cooler and younger. Besides, I've been calling the donut shop Dunkin' for years, so making the name change official will make me want to visit the store even more.