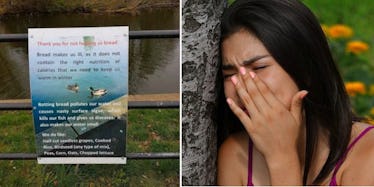 There's A Reason You Shouldn't Feed Bread To Ducks, And It'll Break Your Heart
Twitter/Shutterstock
Remember all those times your parents took you down to your local park, and you fed the ducks some bread?
Ah, such happy memories. And the little duckies love bread, right?
WRONG.
It turns out we actually should NEVER feed ducks bread.
This shocking revelation came to light after a woman tweeted a picture of a sign in her neighborhood park that thanked locals for not feeding bread to the ducks.
Oh dear.
People on Twitter are absolutely devastated to realize they've unintentionally been hurting poor little ducklings for several years now.
The guilt is practically unbearable.
How could we do this?!
Please, someone tell us the ducks have just finally caught on to the whole gluten-free food trend.
Schools insisted on teaching us useless algebra skills, but they couldn't tell us ducks can't have bread??
TV shows totally dropped the ball on this, too.
LIKE WTF, HOW MANY DUCKS DID MICHAEL SCOTT KILL IN THIS EPISODE?!
Daddy, how could you?!
Lock us up, dude. We're all criminals here.
YOU'RE THE BASTARD, YOU HEARTLESS JERK.
Um, OK... At least we're all not as bad as this monster right here.
The one bright side to all this? It may be the birth of a brand new meme.
According to MailOnline, bread is basically ducks' kryptonite because the carbs are very poor in nutritional value and can contribute to a number of conditions.
Some ducks can become deformed after eating bread, or may not be able to fly properly.
Too much bread can also lead to a condition called "angel wing," which is when a bird's wings point out to the side, rather than resting flat against the body.
If you still love getting close to ducks in the park, experts advise feeding them pieces of lettuce, bird seed and grapes – just make sure to cut the grapes in half first – instead of bread.
Hopefully, we're not all going to hell for this.
Citations: 'I'm a duck murderer!': Twitter erupts over sign warning people NOT to feed birds bread as users say 'revelation' has ruined their childhood memories (MailOnline)