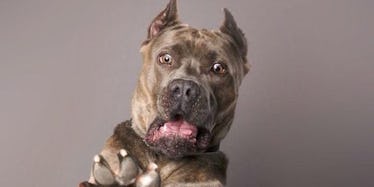 This Dog's Intense Reaction To Catching A Toy Got An Epic Photoshop Makeover
Reddit
When the internet gets ahold of a photo of a cute dog's priceless facial expression, you can expect an epic Photoshop battle to take place just before it goes viral.
That's exactly what happened after a Reddit user shared a photo of their dog's intense face while playing with a toy. Redditor Rocklou uploaded a photo captioned, "dog trying to catch toy with his paws."
Seemingly, that's all the internet really needs in order to spark a Photoshop editing battle we'll never forget.
People were pretty creative as they worked a spooked pup into a bunch of obscure, random backdrops.
Here's Reddit user Rocklou's original photo of his dog's crazy facial expression while attempting to catch a toy with his paws.
Once fellow Redditors got their paws on the photo, the race was on.
Who will craft the best edit of an already epic photo?!
It's a close call...
Some of these are just TOO good.
Who knew this dog was at one of President Trump's rallies?
Apparently, he starred in the "Scooby-Doo" movie, too.
When he's not being scared with Shaggy and Trump, he's brawling on the ice during hockey games.
Lastly, my personal favorite: the aftermath of that hockey fight.
You can always count on the skillful photoshoppers out there to get to work as soon as they come across a photo that's already wacky enough.
Hey, I'm not complaining. As a matter of fact, I want MORE. Luckily, a generous Photoshop warrior out there went the extra mile and edited the dog into a GIF I'll probably have saved on my computer for decades.
It's that damn good... Without further ado, I present to you "Holy Shit, I'm About to Get Knocked the Fuck Out" dog:
Don't you just LOVE the internet?
Citations: Dog valiantly trying to catch a toy gets the Photoshop battle he deserves (Mashable)