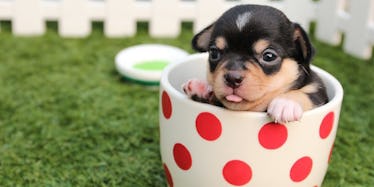 That Dog Cafe In Los Angeles Finally Opened And The Photos Are Puptastic
Pixabay
Finally, Angelenos have a place to admire canines.
Just kidding, there are more dogs than people in LA, but now two of life's greatest things have been brought together in one place: rescue pups and chai tea lattes.
The Dog Cafe LA houses about a dozen dogs of all ages and breeds that have been rescued from local shelters and are available for adoption. The cafe founder and owner, Sarah Wolfgang, hopes to help reduce the rates of homelessness and euthanasia that plague so many unwanted dogs in America.
For an admission fee of $10, you can play with the pups for an hour while enjoying a complimentary beverage and snapping pics with your furry new BFF in the cafe's photo booth.
And unlike spending ten bucks on a sugar-laden Starbucks latte, you can feel good about all the money you spend at Dog Cafe LA since the majority of the proceeds go toward covering the dogs' medical bills.
Citations: Move over cat cafes, this dog cafe is all kinds of cute (Mashable)