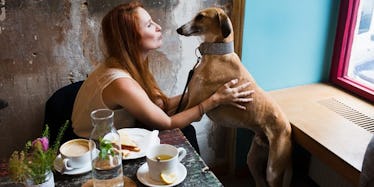 A Dog Cafe Is Finally Coming To NYC And You Need To Plan Your Trip Right Now
Step aside, cat cafés, because New York City is about to get its very own dog café.
The dog-friendly "coffee shop and community space," called Boris & Horton, is set to open in the East Village in December 2017.
Do you know what that means? Puppy cuddles for the holidays!
DNAInfo reports Boris & Horton's father-daughter owners, Coppy and Logan Holzman, fittingly named the spot after their own pups: Boris, a pitbull mix, and Horton, a terrier mix. SO CUTE.
When the dog-friendly café opens, anyone will be welcome to bring their dog. But similar to feline-friendly locales before it, the café itself will reportedly feature a glass wall to separate the dogs from the food space, per Department of Health rules.
Not in a weird way, though.
Coppy told DNAInfo,
It's like basically going to someone's nice living room with your dog, and it's adjacent to a place where you can get all your food and coffee.
So basically, you just have to grab your food and drinks on one side of the glass, but you're totally free to dine with your dog (and everyone else's) on the other side.
Perhaps you're thinking, "Who's going to watch my dog while I order a latte and some grub?"
If that's the case, you'll be pleased to know that Boris & Horton's staffers will be available to look after your pooch while you're on the food side.
Speaking of food, the café will be serving up your standard coffee, pastries, and sandwiches in addition to beer and wine.
You don't actually need to own a dog to stop by. However, if you're in the market for a new best friend, owners Coppy and Logan have partnered with Badass Brooklyn Animal Rescue to host adoption events.
I'm pretty much counting down the days until I can have my cake and pet other people's dogs, too.