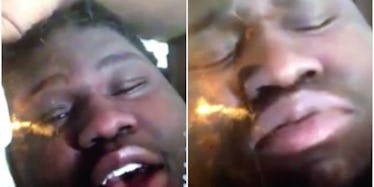 Man Narrates His Disappointing Blowjob While Streaming It On Facebook Live
Facebook
FYI, you're about to watch someone receive a blowjob on Facebook Live.
Broadcasting fellatio requires all the balls and zero shame. This woman has both.
But apparently, she has no technique: The guy getting head can't stop complaining about it.
It's just ungrateful, really.
The guy holds the camera in front of his face and pulls a whole range of expressions. It's surprisingly hypnotic.
Suddenly, he wails in pain and lashes out at his lady's BJ methods.
He says,
Oh shit, I just dropped the camera -- it's a Kodak moment. Shit. Why you sucking it like that? Oh SHIT. Bitch, your mamma looks like a goddamn, I dunno. You's a fat bitch, you nasty back asshole. I'm a porn star now.
At one point, he smiles and poses for a photo. Then, he goes back to providing a bizarre running commentary on the oral.
He even responds to comments flooding in, and clarifies he will not be returning the favor by going down on his Mrs.
He continues,
Every time you go right -- it be like -- OOOOH MY GOD. On the tip of that mother fucker. I ain't eating now pussy now, not on Facebook Live. I'mma eat some pussy later on.
It sounds like she's into some freaky ass play as well. He demands she stop eating his butt.
He says,
I've gotta stop getting my ass ate. Bitch, I am not bent over nor I'm not got my damn legs hoist up in the air -- that's how I eat an ass. I am enjoying it. I am enjoying it.
The stream ends with more wailing and nonsensical chat.
The video goes on for a good few minutes, but I challenge you to press play and not finish it. Beats a night out at the opera, hands down.