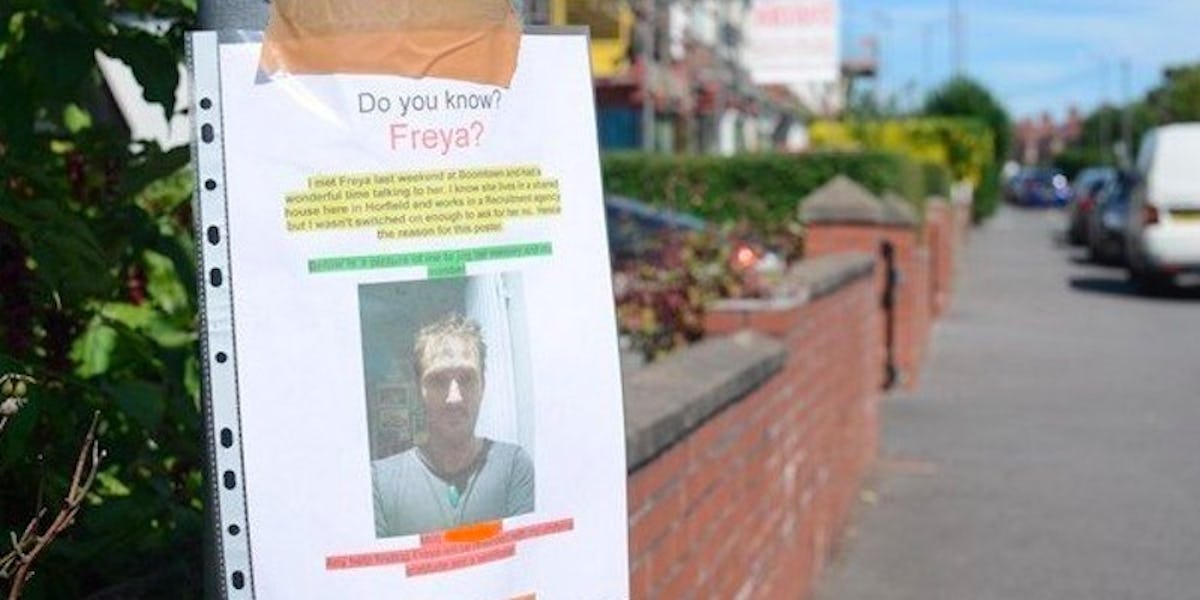 Guy Puts Up Desperate Posters Around Town After Falling For Girl At Festival
Twitter
There's a fine line between creepy and romantic, and Nick Hopton from Hampshire is making this line really blurry.
He met the girl of his dreams at Boomtown Festival, but didn't ask for her number. So, he made desperate posters and put them up around town.
It reads,
Do you know Freya? I met Freya last weekend at Boomtown and had a wonderful time talking to her. I know she lives in a shared house in Horfield and works at a recruitment agency but I wasn't switched on enough to ask for her no. Hence the poster. Below is a picture of me to jog her memory and my number.
Oh, Nick. It's a bit too much, isn't it?
He managed to get so many specific details about her living situation, but didn't ask for her number.
It's a classic case of wimping out at the last minute. We've all been there, bro.
But hey: It looks like the old-school romance went down well with Freya. She was alerted to the posters, and gave Nick "the stud" a call. He explained,
It was old school, doing that. It was a bit scary putting your phone number on a poster like that, and I did have a couple of calls from blokes saying, "Yeah, I'm Freya." We'll see what happens now, but my job now is to go out and take these posters down as quickly as possible.
The world needs more hopeless romantics like Nick.