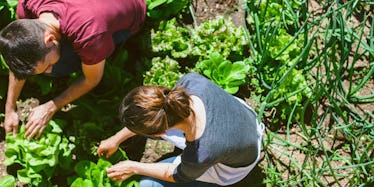 Dating App Wants You To Find Love While Giving Back To Your Community
Tired of the never-ending carousel of Tinder dates?
Wondering whether or not there is more to modern dating than beer, pizza and awkward conversation?
There may be a solution still involving swiping for love.
Neqtr is a "socially conscious" dating app allowing users to match up with others who actively contribute to the betterment of society.
In an interview with Bustle, cofounder Sonya Davis said she was drawn to a farmers' market volunteer and noticed how seeing him read to children from low-income homes made him seem "10 times more attractive" than your average guy at a bar.
Davis teamed up with Wolfgang Wedemeyer and Amy Fan to create Neqtr and give people with positive energy and the urge to improve the world around them a place to meet online.
Davis explained,
When you're giving back... you're forming deeper connections with people around you… I just really wanted to create a safe way for women to date — a way for people to meet and do things that make you feel full and fulfilled.
The app is invite-only, and there's a short application to complete. Once accepted, users choose causes close to their hearts and disclose whether they're looking for friends, love or both.
Neqtr shows users possible matches in their areas, and as with Tinder, there is plenty of left-or-right swiping.
If two users match, the app provides dates that are either volunteer opportunities with organizations like Habitat For Humanity and the Humane Society or healthy outings like a hike or a fitness class.
Yoga is one active date option for a user and his or her match.
"Sexy points" are granted to users based on how many events they attend.
Davis shared,
One of the biggest things that I want to work towards is redefining sexy for good.
Currently available in San Diego and coming to New York in December, the app is changing the way Millennials approach online romance.
Davis claimed,
It's restored my faith in humanity… It's bringing some of the most amazing people out.
Get on Neqtr, do-gooders of the world. Even if you don't meet your soulmate, you'll feel great about how you spent your time looking.
Citations: Neqtr Is The Anti-Tinder Dating App, Helping You Date For A Good Cause (Bustle)