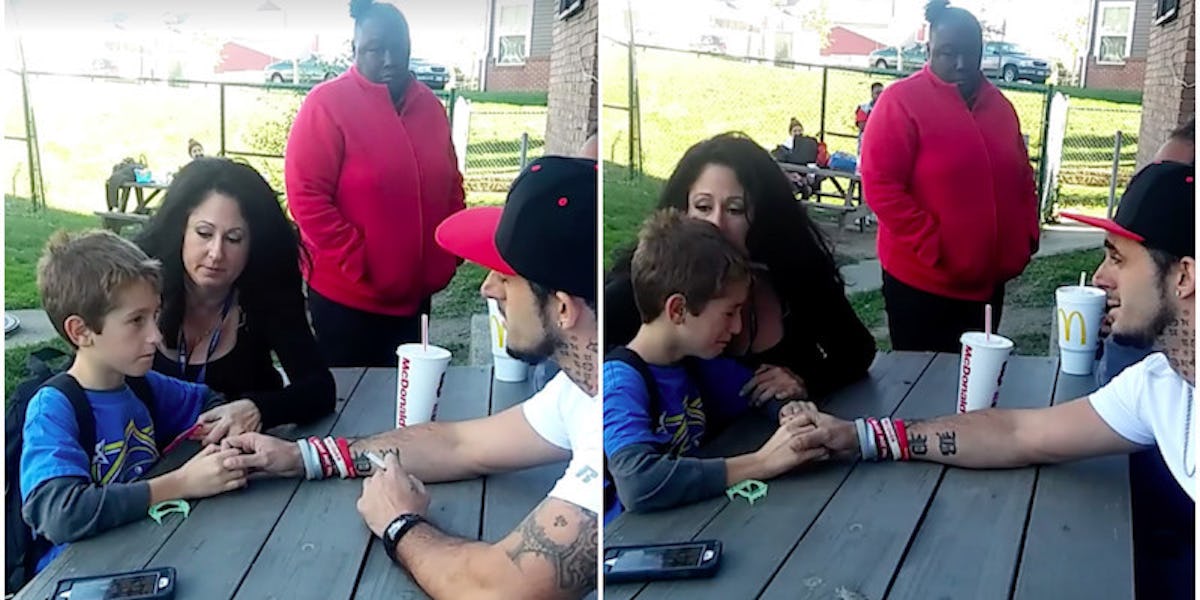 Dad Tells Son His Mom Died Of A Drug Overdose In Heartbreaking Facebook Video
Facebook
A father has posted a video on Facebook of the moment he told his son his mother had died of a heroin overdose.
Brenden Bickerstaff-Clark, of Youngstown, Ohio, sat down with his boy on a bench outside of a McDonald's to break the news to him.
The video shows Brenden holding his son's had from across the table. He says,
I have something to tell you, OK? Hold my hand. Mommy died last night. OK? Mommy died last night.
Confused, the boy replies,
What, you mean my mom? HOW?
He breaks down in floods of tears and his father continues,
From drugs. I'm so sorry. I'm so sorry. I love you. Can I have a hug?
Brenden posted the heartbreaking video online so the world would know the true pain of addiction. He wrote,
This is for any and every addict with children. Today I had to tell my eight-year-old son that his mommy died from a drug overdose last night. This is the realization and reality of our disease. Don't let this disease have to make someone tell your child that you're dead because of drugs.
He said it was the hardest thing he's ever had to do. He continued,
My son has no mother because of heroin...kinda hard to hear but u can hear what we're saying. Please get help so our children don't have to suffer. This wasn't staged. This was real. I had someone record this so addicts with children can see the seriousness of our epidemic.
Brenden added he is a recovering addict and has been clean for 94 days. He asked that viewers share the video to help raise awareness of addiction and save a parent's life.
A string of videos have emerged recently showing heroin overdoses.
This video shows a young child trying to rouse her parents after they took the drug.
Her father lays sweating on the floor next to a fan, while her mother sits motionless on the couch.
Cases like this are becoming far too common.