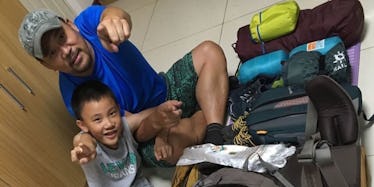 This Dad Took His Son On A 7-Day Backpacking Trip With Only $15 To Live On
Weibo
Some parents tell their kids to get a job. Others give them a stern talking to and a bit of advice.
But this father took his young boy away on a backpacking trip with only $15, in order to teach him about the hardships of life.
Pu Wei is taking his 8-year old son, Dou Ge, from their home in Xi'an, China to Lanzhou, which is over 350 miles away. The trip is scheduled to take seven days.
Dad said, "Dou Ge is naturally curious, and every day during this trip, whenever I see how excited he is to discover new things, it pushes me forward to go on with the trip."
So, Dou Ge is definitely happy to be hauled away from school for this adventure, it would seem. And who can blame him? We secretly wish our parents took us on a journey of self-discovery at the tender age of 8.
Now, $15 would just about get you a beer at a hostel. So, Pu's REALLY working on a tight budget here.
The duo hitchhiked and walked everywhere: There are no Ubers for these mavericks. Pu says he was surprised by the generosity of the people they came across on their travels. Some even gave them food and shelter.
Erm, yeah. This is probably because they were genuinely concerned about a man and his very young son just wandering around rural China.