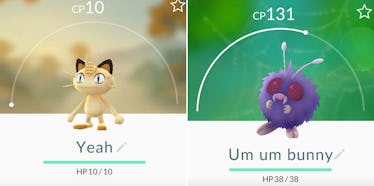 This Dad Lets His 2-Year-Old Name His Pokémon And It's The Greatest Thing Ever
Imgur
Kids call things how they see them, and I envy that.
We'd love to tell that woman next door how it really feels to get woken up at 2 am by her drunken sex sessions, but we don't. Instead, we nod politely as we walk past each other on our ways out to work every morning. A kid would call her out on that BS.
Also, how does she always look so fresh after a lengthy night of intimacy?
I digress.
Children have no filter, and one dad used this for his own amusement by letting his kids rename all of his Pokémon Go characters -- FOR THE BETTER.
He uploaded the results to Imgur and wrote,
For your mild amusement, I renamed all my Pokemon whatever my 2-year-old called them.
We much prefer these alternative names. Let's kick it off with this guy:
Magmar
Paras
Meowth (my definite favorite)
Nidoran
Ekans
Metapod
Pidgey
Jigglypuff
Bulbasaur
Psyduck
Oddish
Nailed it.
For more of this guy's 2-year-old's adorable Pokémon Go character names, check out his Imgur account.
Citations: Metro