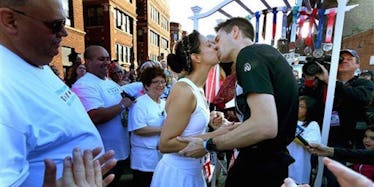 Race To The Altar: This Couple Tied The Knot While Running A Marathon
Good for you if this was the year you finally got it together and ran the marathon, but your commitment still doesn't come close to that of Mark and Stephanie.
Mark Jockel and Stephanie Reinhart decided the Bank of America Chicago Marathon was hardly stimulating enough and took the breezy jog as an opportunity to unite their souls for eternity (nbd).
At mile eight, the couple, who met two years ago in a running group, stopped for a five-minute wedding ceremony and then continued onward.
Rather than spend months agonizing over wedding plans, the fit, affianced couple took the advice of a friend.
In an interview with NBC Chicago, Reinhart shared,
I wanted a little wedding, and Mark wanted a big wedding. My colleague suggested that we get married during the marathon, and it was perfect: I get a short and sweet ceremony, and Mark gets several thousand guests.
Just like any average married couple, the newlyweds posed together for photos after the race.
Reinhart and Jockel even sported bride and groom tags in place of their assigned numbers.
Reinhart shared her favorite motivational sign from the big day.
Congratulations to anyone who got married on Sunday and anyone who completed Sunday's marathon, but double congrats to the couple who did both simultaneously.
Citations: COUPLE GETS MARRIED IN THE MIDDLE OF RUNNING THE CHICAGO MARATHON (ESPN)