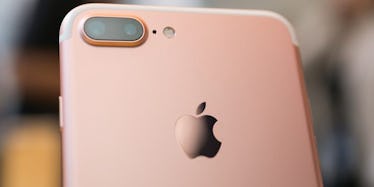 Copper iPhone 8 Might Have An Official Name And It's Way Cuter Than Rose Gold
Shutterstock
If there's one thing millennials take seriously, it's rose gold. From wines to iPhones, this coveted hue is a fan favorite amongst the 20-something cohort. So when rumors about a copper iPhone 8 began swirling, millennials were obviously intrigued. Then, after learning about its potential name, we were all really intrigued. According to reports, Apple's copper iPhone 8 might be called "Blush Gold," so obviously the color option for your next cell is going to be a no-brainer.
These reports further suggest that the Blush Gold iPhone — a name that so perfectly captures the beauty of the product — might only be available in 64GB and 128GB capacities, so hold the phone (see what I did there?). So if you're ready to shell out some serious dough (and it is serious dough) for a 256GB device, just be mindful that number of gigabytes is reserved for Jet Black (also a lovely option, but not quite like Blush Gold). The rumor began on Twitter, thanks to Benjamin Geskin, who cites Foxconn Insider, so don't stress too much just yet — this gigabyte info might necessarily be 100 percent accurate. There could still be a chance to score the Blush Gold phone with the appropriate gigabyte to your liking!
Oddly enough, when polled, people were inclined to opt for Jet Black first, followed by a mirror-like color (which might or might not actually be available) then gold. Like black cars, black phones are the most difficult to maintain, so techies might want to reconsider their first pick. Perhaps adding a couple more millennials to the questionnaire would have changed the color preferences.
But regardless of Blush Gold or Jet Black, the iPhone 8 is still a highly anticipated product that will ring in the company's 10-year anniversary. You know it's going to be a big one. While it's been difficult waiting to hear confirmation from Apple itself, hang in there — we're almost at the Blush Gold finish line.