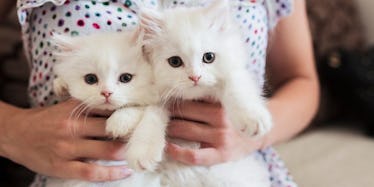 This Company Will Pay You To Cuddle With Cats All Day, So Get Your Resume Ready
Jovana Rikalo
If you cuddle with kittens like it's your job, you'll be thrilled to know a company is now hiring a lucky cat lover to cuddle with felines throughout the day.
I know, I know -- this seems too good to be true. Take a deep breath, nuzzle your kitty and pay close attention, because I'm not joking.
A veterinary clinic in Dublin, Ireland just posted a job listing for a "Cat Cuddler" to join their staff, which means you can officially profit off your undeniable cat obsession and literally make money by petting kittens all day long.
It sounds like the purrr-fect opportunity.
The clinic, called Just Cats Veterinary Clinic and Cattery, is Dublin's only veterinary establishment just for cats (there are no dogs allowed). Therefore, it's super important for them to find someone crazy for kitties to join their staff.
According to the listing, they're looking for someone with "cattitude" who has "gentle hands capable of stroking cats for long periods of time."
The cat-loving candidates are also encouraged to know the different types of purrs (I didn't even know different types of purrs existed), and must be "softly spoken" and "capable of cat whispering."
So, it basically sounds like anyone who spends more time with cats than humans will land the job in a second.
In another cat-egory of the application, the clinic asks applicants if they ever count kittens before they sleep or feed stray cats in their town. If the answer is yes, the company suggests they might be a good fit for the Cat Cuddler position.
Of course, the company also asks if petting cats makes applicants "warm and fuzzy" inside, and the answer is obvious.
If this position seems like a good fit for you, send your cover letter and resume to miaow@justcats.ie.
But there's one tiny detail you should know about before moving to Dubiln and putting your cat skills to the test: you'll need a qualification recognized by the veterinary council of Ireland in order to be considered.
It's probably worth getting if you aspire to cuddle with cats for a living, though.