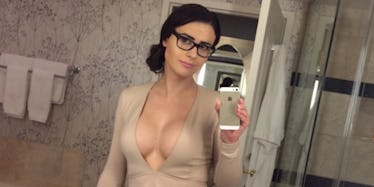 CNN Aired 30 Straight Minutes Of Hardcore Porn Instead Of Anthony Bourdain
Twitter
Anthony Bourdain's "Parts Unknown" may have gotten very, very sexy last night... after people claim porn was accidentally aired in its place.
One viewer in Boston was left confused (and horny?) after she sat down to watch Mr. Bourdain explore American culture on CNN, but instead saw two people exploring each other's bodies in the most hardcore of ways.
She tweeted about the incident, but has since made her Twitter private. Elite Daily is still waiting for verification of the account and events.
If true, the "cock-up" was made by local cable TV provider RCN, which provides CNN broadcasting on parts of the East coast.
It's not clear how the mistake was made, but it went by unnoticed for a full 30 minutes, and people were posting about it all over Twitter.
Yes, 'twas a Thanksgiving to remember for little Johnny who accidentally viewed transexual porn with his parents at the tender age of 8. So young. So innocent. Now sullied.
So many parts unknown.
One of the first to notice the error was Twitter user @Solikearose. She wrote,
I can't wait until RCN wakes up & realizes that hardcore porn was broadcast on CNN instead of Parts Unknown tonight.
Word quickly got out, and I wouldn't be surprised if Anthony Bourdain got a nice spike in viewing numbers.
People were taking NSFW screenshots of the bizarre juxtaposition that was the porn stars going at each other with a channel guide that read "Anthony Bourdain: Parts Unknown."
@sassittiki added,
Apparently if you have RCN an tried to watch Anthony Bourdain in the Boston area last night, you got to watch 30 minutes of porn instead.
However, it's worth noting there is little evidence to fully verify the incident taking place. There is a lot of chatter about it on social media, but no one official has offered an explanation.
It's only just come to the attention of the porn star in question -- Riley Quinn -- and she thanked the networks for airing her scene.
The retired transexual adult film actress tweeted to CNN. She said,
Hey CNN thanks for the free airtime.
Neither RCN nor CNN has commented on how the error happened, so it's probably best we sweep it under the rug and just pretend it never happened.