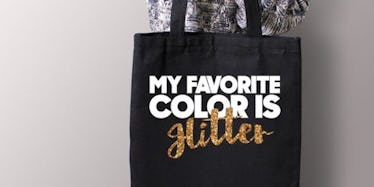 Clothing Store Accidentally Designs "Hitler" Bag And Twitter Is Shook
Typeface is pretty important, and using the wrong one might hinder your chances of success. I mean, you always hear people say not to use the Comic Sans font in a professional email or resume because it might lower your chances of being taken seriously, right? Well, an online fashion boutique called Belle Chic learned about font usage the hard way when they accidentally designed a "Hitler" bag.
A tote bag Belle Chic has for sale has been torn to shreds on social media and it's not because of what the bag says, but because of the font they used. The words on the bag say "My favorite color is glitter," but many saw something else.
Many read the words on the bag as "My favorite color is Hilter," which has lead to yet another viral hit on the Twitterverse. Didn't I tell you your choice of font can make of break you?
Some people saw this as an opportunity to make jokes.
Others are questioning the legitimacy of the entire situation.
This is far fetched, but people have done crazier things for internet fame.
Twitter user @Ker_Goz knows just how important the right font can be.
When and "F" looks like a "J," really bad things happen.
Due to all of the heat Belle Chic has received regarding their infamous glitter tote bag, they have recently updated the bag's font on their website. Belle Chic has also addressed the fiasco via their Twitter account.
"We are beyond embarrassed about the design of our GLITTER tote bag. We replaced it with a new design. Hope you like this one better," BelleChic tweeted. The font choice clearly made all the difference, but so did the capitalization of the word "glitter."
Matt Molen, Chief Marketing Officer for BelleChic, gave allure a statement setting the record straight about the tote bag. He said,
While I realize that most of the social media buzz and commentary has been tongue-in cheek, the type of abhorrent sentiment conveyed as part of the misinterpretation absolutely does not align with our company values, nor is it something we would ever want to encourage or support.
Next time someone tells you the font you use doesn't matter, direct them to this article.