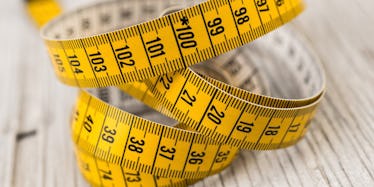 This Clinic Is Giving Out D*ck Measuring Tape For A Really Good Reason
Shutterstock
This seems like a more effective method for choosing a condom size than some guy telling the woman he's with,
I don't know, like a medium-sized cucumber or not the smallest Red Bull can but def not as big as the 16-ounce one?
A Stockholm, Sweden youth health clinic is hoping to combat a rise in STD rates by offering free penis measuring tapes to young males up to the age of 23 and asking them to measure their Swedish peenishes so they get the proper-sized condoms.
Eddie Sandstrom, who is a nurse at the clinic, said one major reason for condoms breaking or falling off during sex is the user purchasing the wrong size prophylactic, The Guardian reports.
In a podcast on the website, Sandstrom reportedly said,
You have to measure the circumference of the penis when erect, not the length. On our measuring tape you get the measurement in millimetres and a few recommendations for condom types that are suitable.
The clinic is hoping this campaign can succeed where other Swedish health campaigns failed at trying to curb STD rates.
The clinic reported five males came in and requested the measuring tape on Monday, a day before the campaign even launched.
Anything to save that Swedish peenish.
Citations: Treat Your Boyfriend to This Doctor Approved Penis Measuring Tape (Cosmopolitan)