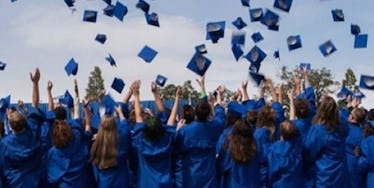 Class President Uses Commencement Speech To Call Out School For Censoring Her (Video)
Graduation speeches are usually pretty cheesy, but this class president didn't hold back at all when addressing her graduating class at a prestigious private school.
Sarah Haynes, an 18-year-old who recently graduated from the Ravenswood School for Girls in Sydney, Australia — a $28,000 per year private academy — delivered a scathing speech at the school's commencement ceremony.
In the speech, Haynes reveals how the institution and its students left her "hurt and betrayed" after an alleged bullying incident earlier in the year.
She explained,
Today's schools are being run more and more like businesses where everything becomes financially motivated, where more value is placed on those who provide good publicity or financial benefits.
According to Haynes, school officials attempted multiple times to censor her criticisms, insisting "no parent wants to hear that the school isn't perfect."
The class president bravely ignored the school's requests and instead delivered the speech she felt the academy deserved. Since its posting on YouTube yesterday, the video of Haynes' speech has already been watched more than 4,000 times.
Check out a portion of her powerful delivery, below.
Citations: 18 Year Old School Captains Speech Goes Viral but Not for the Reason Youd Expect (Cosmopolitan)