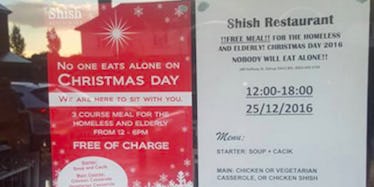 Restaurant's Christmas Offer For The Lonely Will Restore Your Faith In Humanity
Facebook
Let me thaw that ice cold heart of yours: A restaurant is offering free meals to the elderly and homeless this Christmas Day.
And you thought human kindness was dead. PAH.
Shish in Sidcup, England, is restoring a bit of faith back to society with their generous festive promises.
Staff from the restaurant posted a photo of the note they put in the window on Facebook. It reads,
Free of charge. No one eats alone on a Christmas Day! We are here to sit with you. 3 course meal for the Homeless from 12-6 pm. Any homeless or elderly are welcomed.
The menu is soup, a choice of three main courses (chicken casserole, vegetarian casserole and chicken shish) and rice pudding for dessert.
The offer is running from 12 pm to 6 pm on 25 December, and we can't get over how amazing it is.
The post went viral – obviously – because it's the nicest darn thing we've seen all year.
Steve Turner commented on Facebook,
I wish more places would do this for the elderly and the homeless... Good work shish. Too many establishments double the price for a set menu and rush you out the door at Christmas... truly a brilliant gesture by Shish.
The owners are believed to be Muslim. But many people have pointed out the kind offer is not religion-based.
Felicity Woodruffe posted,
Lovely offer and only one of several wonderful food sharing ideas that are being run by Muslim groups. There is one started by a young girl in Birmingham they are very busy. It's fantastic. It's not about religion it's about caring for your fellow man no matter the circumstances.
Strangers are now asking the restaurant owners if they need help funding the gesture.
Hats off to you, Shish! Thanks for restoring a bit of humanity to 2016.