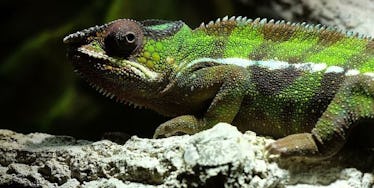 Chillest Chameleon Ever Holds Anything You Give Her And Twitter Is Cracking Up
JENS KALAENE / Stringer / Getty Images
Oh, the internet. It's a magical virtual space where amazing things happen. Take for example everyone's latest fascination: 2-year-old Olive. She's a cute lil' reptile with a calm demeanor who's just about willing to strike any pose out there, a quality that catapulted her into stardom. This viral chameleon holds anything you give her, so naturally, Twitter had a field day.
Her 19-year-old owner, Emma Ward, got a little creative with Olive's photoshoot and raked in hundreds of thousands of likes and retweets. After she placed mini swords in Olive's hand, the internet was pretty much ready to sign her up for Game of Thrones. Judging from the success of the three photos, it appears she would be a solid addition to the show. Jon Snow, there's some competition coming your way.
Thank goodness for Ward's creativity. Twitter is certainly appreciative.
"Knowing she likes to grasp anything that goes in her hands, I thought Lego swords and Evangelion weapons would be an interesting idea," she told Chron.com. And an interesting idea it was. Now Olive's owner cannot even keep track of her leading lady's growing fanbase (and understandably so). "It's viral. I can't keep up with who's liking or commenting on it," she added.
So let's dive into those tweets.
Not only did Olive get the fan art treatment, she also had the privilege of becoming a meme.
Some people responded with photos of their own pets.
D'aww! It's just a cuteness overload and it's too much to handle. Olive, it looks like you are on your way to fame. Your lizard handprint will most likely end up on the Hollywood Walk of Fame and you'll be making pit stops on late-night TV, showing all the hosts how adorable you look holding things. And if that doesn't come to fruition, we'll settle for more memes.