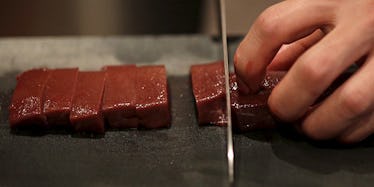 Chef Gets Fired After Bragging About Feeding Vegans Meat In This Instagram
REUTERS
This is truly a classic example of "when keeping it real goes wrong."
Alex Lambert, a 30-year-old chef who worked at the Littleover Lodge Hotel in the UK, was fired from his job after bragging on Instagram about how he feeds vegans meat.
The admission came during an apparent argument on social media — an argument which took place, mind you, in the comments section and was captured in this screenshot of the exchange.
Though Lambert insists he'd never actually put meat in the food that vegans eat, essentially claiming that his Instagram comment was a bluff, outrage still ensued, with people online appealing to the hotel to fire the chef.
This Daily Mail report cites Facebook users who began protesting in the form of Facebook reviews of the hotel.
And while the Littleover Lodge Hotel had only suspended the employee at first, they eventually gave in and fired him.
We have investigated all accusations against Mr Lambert and found no evidence suggestigg that any of these practices have taken place within this hotel. However, due to the comments made by Mr Lambert regarding specific dietary requirements the company has decided to terminate his employment which has been done forthwith.
And that's the end of that beef.
Citations: Daily Mail