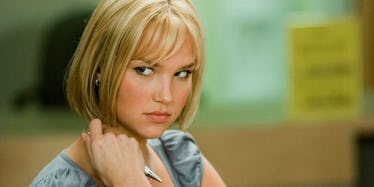 Woman Gets Epic Revenge On Husband After He's Caught With A Side Chick (Photos)
20th Century Fox
WAYNE! GET OUT HERE, WAYNE.
YOU WANT TO DISAPPOINT ME? YOU WANT TO HURT ME? YOU WANT TO SEE ME CRY?
YOU WANT TO HAVE YOUR CAKE AND EAT IT, WAYNE?
I'M 'BOUT TO GIVE YOU MORE CAKE THAN YOU EVER BARGAINED FOR.
MAYBE YOU CAN SELL SOME OF THE LEFTOVER CAKE FOR COCAINE, WAYNE. HOW 'BOUT THAT?
Honestly, Wayne. I'm glad you cheated on me and put a baby in some other woman. I'm glad.
Now I can find someone a million times the man you are to help me raise my son and finally fix the goddamn gate in the yard.  Also, the spray paint was leftover from Pinterest crafts I finished last week.
So your timing is actually... not bad.
Citations: Now THAT's revenge! Wife repays cheating husband by graffiting his truck with his infidelities and drug habit (Daily Mail)