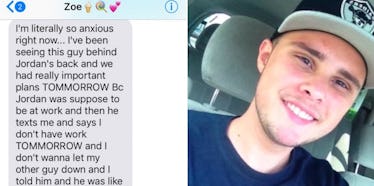 Cheating Girl Accidentally Texts Worst Possible Person About Her Hookup Plans
Twitter
There's absolutely nothing worse than suspecting your significant other is cheating on you.
NOTHING.
We've all been there. We all understand the agony behind questioning the loyalty of a loved one -- and quite frankly, it sucks.
Heck, if you're even questioning whether or not your SO is cheating, you should probably break up before it gets ugly -- but that's just my opinion.
But if your boyfriend or girlfriend accidentally tells you they're cheating, there isn't much left to do but laugh.
A guy named Jordan McNelly recently discovered his girlfriend of two years was cheating on him after she accidentally sent him a text message explaining her plot to hook up with another dude.
That's right: Jordan's girlfriend, Zoe, accidentally texted him an elaborate cheating scheme she was planning behind his back instead of her friend.
I think it's safe to say their relationship is kaput.
The entire text message says,
I'm literally so anxious right now... I've been seeing this guy behind Jordan's back and we had really important plans TOMORROW bc Jordan was suppose to be at work and then he texts me and says I don't have work TOMORROW and I don't wanna let my other guy down and I told him and he was like 'I know you wouldn't come' and I feel so bad BC I'm letting them both down BC I'm a stupid whore and I'm so sad and I already waxed my entire fucking body to fuck this dude HELP
Unfortunately for Zoe, her friend didn't receive the text message.
Instead, her boyfriend did.
After receiving the truthful text, Jordan posted a screenshot on Twitter and Zoe's mistake caused an uproar on the internet.
He captioned the picture,
When you accidentally tell your boyfriend you're cheating on him #2yearswithahoe
The screenshot already received over 241,000 likes, and people are completely shocked at her carelessness.
Naturally, they also became curious about how the remainder of the conversation went, but Jordan claims he deleted the other texts.
Apparently, Zoe said the text message was a "dream" and she meant to send it to a friend.
A dream?! Likely story...
Regardless, it looks like their relationship is over and the text was a blessing in disguise. Thanks to Zoe admitting she was hooking up with someone else, Jordan never has to wonder if she's cheating ever again.
Citations: Woman Accidentally Texts Her Boyfriend About Her Plans To Cheat (LadBible)