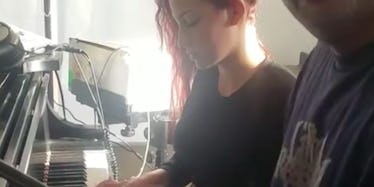 'Cash Me Outside' Girl Impresses Kanye's Producer With Piano Skills In New Vid
TMZ
Be warned, guys -- "Cash Me Outside," the hit single, might just be a little closer than you think.
You probably haven't thought of Danielle Bregoli as the next Alicia Keys -- because why the hell would you -- but the 14-year-old has taken a piano lesson.
There's video evidence, too.
It was published by TMZ, who reported Danielle has had meetings with some big players in the music game.
Yep, her piano lesson wasn't with just anyone.
It was taught by Mark Batson, who has worked with Beyonce, Jay Z, Dr. Dre and Eminem, so he knows talent when he sees it.
This is a strange and scary development for a few reasons, but there's also a crushing inevitability about the whole thing.
Even though Danielle has previously denied she's stepping into the music biz, saying she would leave it to people who actually have talent, she has been contacted by multiple record companies looking to cash in on her fame, TMZ reported.
And she's clearly a big music fan -- after all, who could forget that Kodak Black video?
She may or may not be interested in the music game, but it's clear it's a big part of her life.
It all led up to a meeting with producers Batson and Che Pope, who is the former president of Kanye West's G.O.O.D Music.
That might have been slightly awkward, seeing as she called Kanye the "worst rapper" in the game in this interview:
Don't go thinking she's turned into some piano-playing classy chick, though.
She's clearly a long way away from becoming a piano maestro, and ends the video in typical Danielle style, saying,
This is fucking hard!
Mutual friends in Florida, where Danielle lives, reportedly suggested the meeting with the producers, who have a serious reputation -- Batson won a Grammy for Queen B's "Dangerously In Love."
The platinum-selling album is surely just around the corner.
Citations: 'CASH ME OUTSIDE' GIRL I WANNA BE LIKE BEYONCE ... Or Maybe Alicia Keys (TMZ)