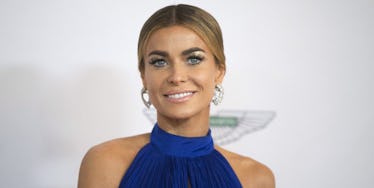 Here's What Carmen Electra Had To Say About Prince In The Wake Of His Death
REUTERS/Mario Anzuoni
Before Carmen Electra became a Hollywood icon, her family and friends knew her as Tara Leigh Patrick. Among those friends was Prince, who eventually catapulted Electra to her ultra-famous status.
Though their relationship evolved over the years, Carmen Electra always thought fondly of Prince. After hearing of his death, the actress and model, told E! News she was "in shock" and "so sad." Reminiscing on their shared history, she said,
He always talked about life, not death. He was excited about music. But, back then he talked a lot about God, but not about religion. Prince was like a god. Maybe that's why I'm so shocked he's passed away.
Electra met Prince for the first time while auditioning for an all-female band he was assembling. Though she wasn't selected for the group, she received a phone call the next day that would change her life. As she explained,
I received a call from Prince saying I think you should be your own artist and not back up anyone else. I'm going to write you a song and if you like it, you can record it. The name of the song was 'Carmen on Top.' My name is Tara, so I was confused. I loved the song. I loved it, but he said, 'You're not a Tara. You're not Tara. You're Carmen.'
From there, her career, along with their relationship, took off. She revealed the reasoning behind their breakup in the early '90s, saying,
I told him I wanted to live in LA and he spent as much time here as he did in Minnesota. He wanted me to move back to Minnesota and I said no. I broke it off with him and stayed in LA. I gave up everything with him to live here and make my own career. It was a hard time. I ended up calling him and he hired me to dance at his club in LA. I made $90 a week. I wasn't his girlfriend anymore, but I was one of his girls. This was after we split.
But before they split, Electra says Prince had marriage on his mind, explaining,
His brother once told me Prince was looking at rings when I was still in Minnesota and that he was going to propose to me. I was so excited and in love. One day, Prince asked me if I wanted to work or be a housewife. I said I want to work. I was only 19 or 20 and he ended up never asking me to marry him. But, I was with him every day. I needed to leave and be my own person.
Though they hadn't kept in touch in recent years, Electra says,
I guess what I always wanted to tell him after we stopped communicating is that I really loved him and I just felt like I needed to be successful on my own.
Ultimately, a love like that never dies, as Electra thoughtfully voiced,
He made me who I am today. He inspired me. He believed in me. He picked a select few to believe in and taught us everything. I think of Prince every day.
Citations: Carmen Electra Reacts to Prince's Death: How the Music Legend Launched Her Career and Why She Thinks of Him Daily (E! News)