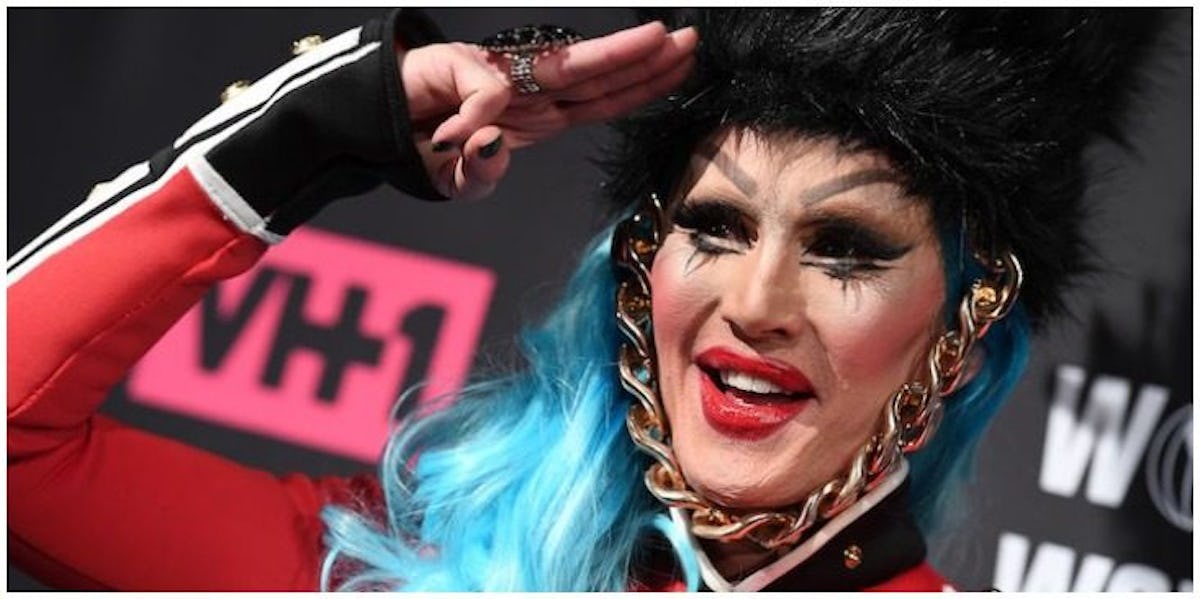 Drag Queens Turned Out To Support A Cancer Patient And The Pics Are So Beautiful
ANGELA WEISS/AFP/Getty Images
After publicly fighting cancer for a little over a year, English journalist Dean Eastmond announced on Aug. 20 that his condition is terminal. He took to Twitter to express his fears, his hopes, his bravery, and some last wishes. Namely: getting painted by all the drag queens from RuPaul's Drag Race. And, well, the girls from RPDR delivered: Eastmond posted a photo of himself rocking drag queen makeup on Aug. 28 after Season 9 queen Charlie Hides came over to hang out.
That's not all: Hides painted Eastmond, but he also started a hashtag, #DeanEastmondSlays, and in response queens like Sharon Needles, BenDeLaCreme, Shangela, and even resident stern mom Michelle Visage sent their love and posed for pictures with signs saying, "Dean Eastmond slays."
Eastmond was diagnosed with Ewing's Sarcoma in June 2016, according to a piece he wrote for The Guardian. He has been a vocal advocate for self-love and self-care throughout his battle, and he has also been an avid RPDR fan and thoughtful reviewer.
So on Aug. 6, in the middle of a worsening prognosis, Eastmond tweeted, "If this turns into me writing a bucket list, you just know me being painted by every RPDR girl will be at the very top of that list." And Hides answered the call on Aug. 23, saying he'd love to paint Eastmond.
Hides tweeted that he'd be near Bournemouth for a show, and he would get a hotel room so he could stay in the area. He then went to Eastmond's house to spent the day with him. And the makeup is sickening. Eastmond's skin is glowing, and that blending is practically flawless.
It's no secret that RuPaul's Drag Race is and has been and will continue to be the best show on television.
The show is wildly inventive, uplifting, and constantly challenges viewers' notions of gender. And while the show is home to its fair share of drama and vicious reads, the queens are consistently supportive of one another, and the gay community at large. So the fact that some of our favorite queens came together to show Eastmond support and love is no surprise.
Trinity "The Tuck" Taylor tweeted at Eastmond.
And so did the ever-wonderful Season 5 winner Jinkx Monsoon.
He even got a halleloo from Shangela.
This is social media at its best: connecting stars with their fans, making people's dreams come true. And as heartbreaking as the circumstances are, the outpouring of love from these queens couldn't have happened to a sweeter person.
Keep slaying, Dean.