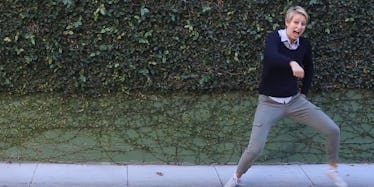 Girl Cuts Hair, Dances Like Ellen After Being Diagnosed With Cancer (Video)
When Lauren Grabowski was diagnosed with Hodgkin's lymphoma, she knew it was only a matter of time before the chemotherapy made her hair fall out.
So, instead of mourning the loss of her beautiful blonde locks, the 21-year-old decided to take the matter into her own hands.
Shortly after receiving her diagnosis, Grabowski visited a hair salon to get an Ellen DeGeneres-inspired 'do. Then, she created an amazing video in which she emulates the talk show host's famously-goofy dance moves.
The clip is the opposite of what you'd expect to come out of a cancer diagnosis: It's vibrant, fun and full of life — much like Grabowski herself.
Life can be hard sometimes, but with an attitude like Grabowski's, you can't lose.
Check out the adorable video, up top.
Citations: Before Losing Her Hair to Chemo This Student Channeled Ellen DeGeneres in the BEST Way (PopSugar)