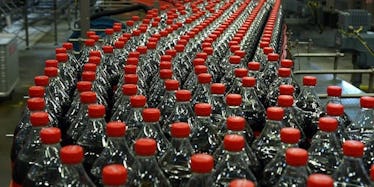 You Can Use Coke Bottle Caps To Donate To Hurricane Harvey Victims, Here's How
Eric Piermont / Getty Images
Are you looking for ways to help with the disaster relief in the aftermath of Hurricane Harvey? Well, your 2 p.m. pick-me-up can now double as a good deed. If you take a peek under the lid, you can use your Coke bottle caps to donate to Hurricane Harvey victims.
According to Delish, you can use the reward code from the Coca-Cola beverage of your choice to donate to the American Red Cross. If you usually swig your Diet Coke down without using the codes, you'll be able to find the numbers under the bottle cap and on the inside of multi-packs. Once you locate the rewards number, head to Coke.com/give and each code entered will turn into 5 cents donated to the Red Cross -- so make sure you tell all of your caffeine-loving pals.
In the company's effort to help fund disaster relief efforts, Coca-Cola also donated $1 million to the American Red Cross. Of course, that kind of money isn't feasible for most people trying to help in whatever way they can, so don't forget to plug those rewards numbers in -- because every little bit does help.
The damage caused by Hurricane Harvey is not going to be fixed overnight, but continued efforts to support the cause are necessary to make sure that relief efforts are moving forward and helping those in need.
It can be easy to mistake an effort like this as being too small, and you might be tempted to just recycle your can and be on your way. It is important to remember, though, that any kind of help (big or small) is welcomed in a disaster like this. Coming together to help those in need is the only way to respond such a terrible tragedy. You never know, one small action might inspire you to help in other ways, too.