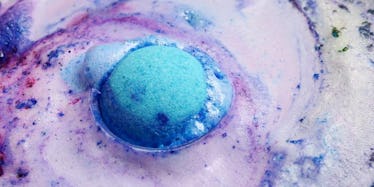 You Can Have Bath Bombs Delivered To Your Doorstep With Lush's New Subscription
Shutterstock/ MACVON
There's nothing more annoying than filling up your bathtub, having your ambient music playing with reading material in-hand, and then realizing you ran out of bath bombs. At this point, you'd probably fill your tub with any bath time gel you find, but it just isn't right. Luckily, there's a new way to remedy this issue, because Lush is now delivering bath bombs straight to your door.
That's right: Lush will deliver their products straight to your doorstep with their new subscription service. Are you excited yet?
The customizable service allows users to choose exactly what comes in their monthly package, so there are no surprises. To pick the products you want in your subscription, you'll have to choose from a set list Lush has available -- and get this, there are more than just bath bombs on the list.
Subscribers can pick from a wide range of products including face masks, moisturizers, toners, and shower gels... just to name a few.
If you aren't too keen on getting your favorite products on the monthly basis (I mean, they do last a bit longer than a month), Lush allows subscribers to choose how often they want their products delivered. You can choose to receive your subscription every one to six months, depending on how frequently you think you'll need to replenish your stock.
Unfortunately, limited edition items cannot be added to the subscription service. So if you wanted to order Fidget Spinner Bubble Bars, you can't. The entertaining Bubble Bars sold out almost as quickly as they were put on sale, but don't fret, because Lush might be "fidgeting around with more soon."
While you wait for the fidget spinner bubble bar to come back in stock, you can subscribe to your favorite must-haves on Lush's website. Think about how many bath bombs you can collect, you'll be a Lush force to be reckoned with.