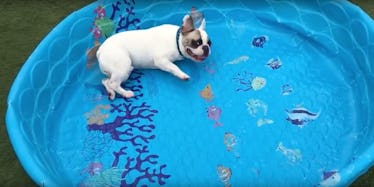 Bulldog Trying To Swim In A Pool Without Water Is Our Summer Spirit Animal
YouTube
When life just isn't going your way, you have to take a deep breath and make the best of it.
That's exactly what we learned from this adorable French bulldog. In a recent video uploaded to YouTube by Arnold and Rosie, we meet a bulldog attempting to swim in a kiddie pool to beat the summer heat. Only there is one little problem -- the kiddie pool lacks the cool, refreshing water needed to really make use of it. Regardless, this cute pup doesn't show a single sign of discomfort.
Instead, he swims around in the waterless pool and proves that only we possess the power to make ourselves happy during life's unfortunate situations.
In other words, when life takes away your fresh pool water, keep swimming!
Check out the video above for a closer look.
Citations: French bulldog refuses to let lack of water keep him from swimming (Mashable)