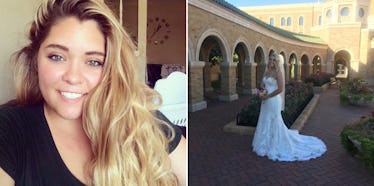 Bride Said Instagram Helped Her Lose 110 Pounds Between Engagement And Wedding
Instagram
Could you imagine having precious proposal photos taken during your special moment only to look at them later and not be happy with yourself?
That's exactly what happened to one Texas-based newlywed when she looked at her proposal photos and decided it was time to make a change.
Haley Smith, a 24-year-old from the city of Amarillo, spoke to People magazine about the moment she saw her proposal photos after her engagement to her now-husband Matt.
Smith explained,
I saw them and didn't even recognize myself. I cried because this was one of the happiest moments of my life, but I was just so ashamed. I didn't understand how Matt could want to be with someone like me. After seeing those, I knew I needed to change.
So, how did she go about making that major change? The bride-to-be's transformation process began with making "slow habit changes."
This means Haley started off by attempting to change some of the smaller habits that made up her unhealthy lifestyle.
Here is what Haley looked like before her transformation.
Haley Smith told People,
I had tried drastic diets or workouts in the past and always failed after a matter of weeks. With the small changes, I would just pick two habits and after about a week or two of sticking to it, I'd pick two more.
Her first few changes included paying close attention to her water intake, not eating after 8 pm and only eating out twice per week. She added,
Tackling those small, feasible changes made snowballing into running three times a week and adding strength training so much more doable.
Once she finally gained stability in her new routine and overall lifestyle, Haley was able to lose nearly 110 pounds between her engagement and her wedding.
If that's not inspiring, I'm not sure what is! Not even just for women, either. Everyone can learn from this -- if you put your mind to it and remain consistent, there's nothing you can't do!
Here's a before-and-after photo of Haley.
Believe it or not, social media played a huge role in Haley's transformation. A large part of her motivation stemmed from Instagram.
Smith revealed,
Motivation has been such a tricky thing. Even with the small habit changes, I go through so many cycles of being bored or discouraged. When I am, I really try to find different ways of staying motivated. For example, I have decorated my scale, I hang motivational quotes and signs all over my house, I love daily goal charts that I can physically check off having completed a task, I bought a Fitbit, and one of my biggest motivations has been starting my fitness Instagram account. It really helps to keep me mindful of all of this while being held accountable.
Perhaps the best part about all of this is the fact that after a full year of staying motivated and determined to change herself for the better, Haley Smith has found happiness.
She able to lose about 110 pounds and slim down to her desired weight. Not to mention, her transformation came just in time for her wedding day!
And to think, at first, she didn't think she would be able to commit to such a demanding lifestyle -- but she did!
It is so surreal. I thought for sure I would get married in a long-sleeve ball gown dress to hide my whole body, but I ended up picking a strapless mermaid dress. I felt so beautiful in it! Instead of being self-conscious and hiding or sweating the whole time, I was able to feel confident, relax, enjoy my family and friends. I honestly never thought I would feel so happy and carefree about myself on my wedding day.
Now, that's a happy ending.
Congratulations to Haley and Matt!
If you're looking for some motivation to get into the best shape of your life, check out Haley's inspiring Instagram account dedicated to her new fitness regime.
Citations: Bride Loses 110 Lbs. Between Engagement and Wedding After Being 'Ashamed' of Proposal Photos (People)