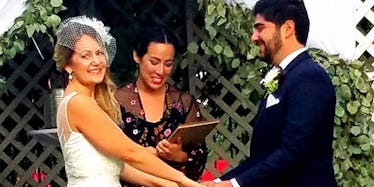 This Bride Accidentally Donated Her Wedding Dress To Goodwill & Learned A Very Valuable Lesson
Angela Berger
After they walk down the aisle, dance in celebration over their new holy matrimony, and jet-set somewhere exotic for their honeymoon, most brides will find themselves back at home, wondering what to do with items from their wedding. One of those items, the wedding dress, is the most sacred keepsake a bride might want to hold onto in order to remember her big day, or even pass on to her daughter.
Some brides opt to spend hundreds preserving their wedding dress, getting it carefully wrapped in acid-free paper or muslin, and then placing it in a pH-neutral box so that the dress can breathe and handle different temperatures over the years. Others ditch the attachment they have for their wedding dress and put it up for sale, hoping to make back some of the cash they spent on making their wedding identical to their wildest dreams.
But Arkansas bride Angela Palladino found herself in a rather unique situation last week. She was experiencing some wedding nostalgia, so she went to check up on her wedding dress, only to notice that it was it missing. It was gone, nowhere to be found.
"After not finding it in the first, second, third, or any of the closets, and almost having a panic attack, I grabbed my husband TJ, who helped me search the entire house top to bottom," Palladino tells Elite Daily. "Soon we confirmed, it was nowhere to be found… and also missing were two large suitcases."
Palladino, who was married in Eureka Springs, Arkansas last October, moved into a new house this summer with her husband. During the dress hunt, she realized that when they moved, her husband donated a few boxes to Goodwill in Rogers, Arkansas — and it turned out, a suitcase that stored her wedding dress was also accidentally donated to the store.
"When I realized the dress was missing, my heart completely sank, because really, it's about so much more than the dress itself," says Palladino. "It's about all the emotion, the love, and the happiness tied to that one special day that you get to wear it."
Palladino bought her dress at Designer Loft in New York City and describes it as one would describe their most precious treasure: "It was unlike any others I had tried on. There was delicate hand-beading across an illusion sweetheart-neckline, with a goet-flared skirt and tulle gown trailing down to the floor. It was perfect. It made me truly feel like a bride."
After realizing the dress was accidentally donated, Palladino posted for help to find it on Craigslist and her personal page on Facebook. She also created a Facebook page, entitled "Have You Seen My Dress?" in hopes that someone might stumble upon it and reach out to her.
Within hours, she received hundreds of personal messages and shares on her Facebook posts, calls from reporters and local consignment shops, all wishing her luck and offering to help track down her dress. But nobody had any leads.
Last week, Palladino finally got a lead.
"A woman on Facebook respond saying she had seen a dress exactly like it at the Goodwill in Springdale about three weeks ago. I spoke with a cashier at that location, who said she was 99 percent positive the dress was there and that it was sold two weeks ago," says Palladino. "Unfortunately, she couldn't remember anything about the person who bought it, but remembered that it had the very same illusion sweetheart neckline with hand-beading. Sadly, they told me there is no way to track the transaction of the dress sale."
While Palladino hopes to find the dress one day soon, she's slowly becoming OK with the fact that her wedding dress may end up like the pair of jeans in the movie The Sisterhood of Traveling Pants. 
"After all, it's a beautiful dress that deserves to be worn and not hung in a closet! If the dress does show up one day, I would encourage whoever has it to donate it to someone else who can wear it and feel gorgeous on their wedding day," says Palladino.
Perhaps the most important lesson Palladino learned through all of this is to keep on remember what is important during your wedding and after your wedding, too: "This whole losing my wedding dress ordeal has really been an important learning experience for me about holding on to 'stuff.' At the end of the day, I'm still married to my wonderful husband, still got to wear the beautiful dress and have more than enough pictures I can look back on to remember how I felt that day."
Check out the entire Gen Why series and other videos on Facebook and the Bustle app across Apple TV, Roku, and Amazon Fire TV.