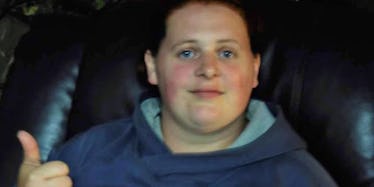 This Woman's Boyfriend Is So Old, People Think He's Her Grandfather
HotSpot Media
Jemma Low, 30, has opened up about comments she gets from people mistaking her 65-year-old partner, Keith Weston, for her grandfather.
The British mother of one from Suffolk told the Daily Mail that, although she's been with her partner for the past seven years, the comments really started becoming frequent after she gave birth to their child four years ago.
She told the Daily Mail, "As soon as our son, Thomas, was born, people started mistaking Keith for my granddad."
Weston recalls a specific example of a time this happened:
I remember one occasion when Jemma came with me to get my car washed. I was having a run about with Thomas outside, but when the car was finished, the man called out to Jemma and said, 'can you tell your granddad his car is finished.' When we revealed the truth, he was mortified, but we found it hilarious.
See, it's cute, you guys! They LOL about it!
The two met back in 2009 through a mutual friend, and Jemma was immediately attracted to her now-partner. "As soon as I spotted Keith, I was attracted to his chiseled jaw and thought he was a bit of a silver fox...  We had an instant connection and chatted for hours. It was like we had known each other for years."
It wasn't long before the two were officially in a relationship and hoping to start a family together.
She found out she was pregnant in May 2011 and Weston was, in his own worlds, "thrilled."
He already has experience with the whole being-a-dad thing with seven kids, three of whom are older than Low. Weston explains that his children were happy for him, saying, "My other children were so supportive, and I just couldn't wait to be a dad again."
Of course, they still got some weird comments on delivery day.
Low recalls a story from the delivery room:
While Keith nipped out the hospital room, the nurse asked me if Thomas' dad would be joining us. Keith had been by my side during the delivery, and when I explained he was my partner, she was mortified, as she'd thought he was my granddad. Luckily, we were able to laugh it off.
To the haters, Low just says, "They don't know how well Keith treats me, so they shouldn't judge. We don't care, though. We're blissfully happy, and to me, that's all that matters."
Did you read that, you guys? BLISSFULLY happy. That's, like, eight steps above regular happy. Maybe we should all go get ourselves old man boyfriends.
Before you go judging them just because they're normal, non-famous simpletons NOT UNLIKE YOURSELF, just remember all of the smokin' hot celeb couples with age gaps we let slide without any shade:
Catherine Zeta-Jones and Michael Douglas, 25 years apart
Mary-Kate Olsen and Olivier Sarkozy, 17 years apart
Rosie Huntington-Whiteley and Jason Statham, 20 years apart
JLo and Drake, 17 years apart
Sarah Paulson and Holland Taylor, 31 years apart
Melania and President-elect Donald Trump, 24 years apart
I mean, come on.
Citations: Mother-of-one, 30, says her partner is often mistaken for her GRANDFATHER because of the 35-year age gap (Daily Mail)