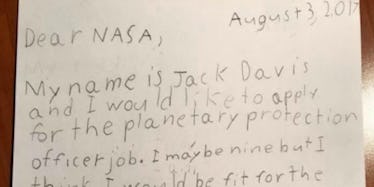 Hero 9-Year-Old Asks If He Can Protect Earth From Aliens With Cute Note To NASA
NASA
Finding one's calling in life isn't always easy, but for 9-year-old Jack Davis — aka Guardian of the Fourth Grade Galaxy — fate is written in the stars. When NASA put out a call for help, this enthusiastic boy was quick to respond and wrote a letter asking NASA if could protect the earth from aliens. It doesn't matter that he's still in elementary school, Jack's a perfect fit for the Planetary Protection Program.
Without question, this is the person everyone needs to shield them from extraterrestrial chaos. Just take a look at Jack's fabulous hand-written cover letter.
Like any good applicant, Jack describes why he is the ideal candidate for the planetary protection officer job. Let's go over the basics:
His sister says he's an alien, so he knows a thing or two about life in outer space.
He's a space and alien movie aficionado who has seen "almost all" the films he possibly can (ones that fit with an appropriate rating for a 9-year-old, I assume).
He's a video game master.
He's young and willing to learn — every recruiter's dream!
If you're swooning at the site of this adorable job request, you're not the only one. NASA was so taken with the little fella's eagerness and expertise that its director of the Planetary Science Division took it upon himself to personally respond to Jack's application.
"Our Planetary Officer Position is really cool and is very important work," Director James L. Green wrote in response to Jack. "It's about protecting Earth from tiny microbes when we bring back samples from the Moon, asteroids and Mars."
(Side note: What about the aliens, though?!)
Green ultimately ended the letter with, "We hope to see you at NASA one of these days!" So in short, it's the kind of "thank you for applying, but we're giving the job to someone else" letter. You're killing us, NASA!
Chin up, Jack. You're going to be going places... out-of-this-world places.