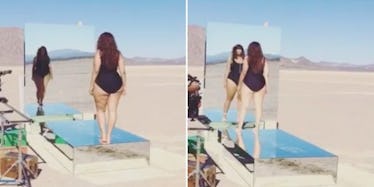 Blogger's Video Shows How Easily Celebs Can Hide Their Cellulite With Lighting
Lately, it seems like a lot of body-positive bloggers have been on a mission to show the world social media snapshots can often be misleading.
Remember when we introduced you to Sara Puhto?
You know who she is. She's the Finnish fitness blogger who debunked the perfect booty pic by posting side-by-side photos that showed all you need to score some Kardashian curves is the right camera angle.
Well, when it comes to showing off the perfect bikini bod on Instagram, it turns out some carefully calculated camera angles isn't the only trick celebs have up their sleeves.
Gabi Gregg – a 30-year-old style blogger who goes by the name GabiFresh on Instagram – recently created a video that shows how celebs hide cellulite in their photos.
Apparently, cellulite is a pretty common phenomenon. It affects about 98 percent of women.
Although it might be hard to believe, celebrities are no exception.
In the video, you can see the bold blogger walking back and forth on a platform in the middle of the desert.
As Gregg walks away from the camera, the cellulite on the backs of her legs magically fades into oblivion.
However, Gregg reveals this isn't some sort of skin-smoothing sorcery. Apparently, all you need to diminish your dimples is the right lighting.
As she makes her way back toward the camera, the bright light on her legs transitions into a shadow. Then, the lines on her legs reappear.
In the caption, she writes,
Reminder that cellulite is normal and nothing to be ashamed of and also depends on lighting! You can literally see mine 'disappear' as I walk out of a shadow here.
If you ask me, this fearless fashion blogger serves as a great reminder we should embrace our natural beauty – cellulite and all – and stop comparing ourselves to the unrealistic body image ideals we often see on social media.
Citations: Watch Blogger Gabi Gregg Show How Cellulite Literally Vanishes in Different Light (Glamour)