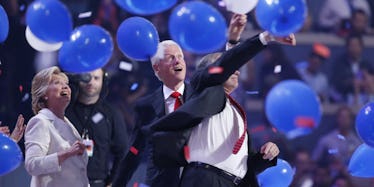 No One Can Get Over Mesmerized Bill Clinton Playing With Balloons At The DNC
REUTERS
Speech? What speech?
No one seems to care about the inspirational words spoken at the Democratic National Convention Thursday night -- instead, they can't get over Bill Clinton's bizarre obsession with balloons.
Get on Twitter now and search "Bill Clinton balloons" for a string of photos and GIFs sure to make your day.
The former president and FLOTUS hopeful (I hope they just keep that name if Hillary gets in) was seen playing on stage as red, white and blue decorations fell from the ceiling.
He looks like a bemused toddler discovering balloons for the first time -- approaching with caution, then getting really hands on.
What an odd man.
Twitter can't get enough of it:
Then, in the middle of it all, Bill stopped and contemplated life to "Dust In The Wind."
If his goal was to humanize the next White House, then congrats, we can all get on this level. Can you imagine what those parties would be like?
Somehow I can't picture Michelle Obama getting this into balloons.
We hope to see Bill playing with Legos or gleefully swimming in a ball pit at some point before the elections in November.