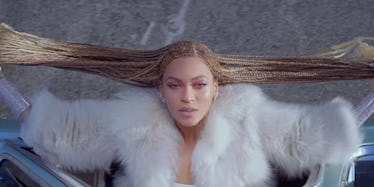 Beyoncé Sends A Personal Thank You Note To Writer For 'Formation' Review
Mega fan Jenna Wortham had her ultimate dream realized Wednesday after receiving a personal thank you note and flowers... FROM BEYONCÉ.
Wortham, a staff writer for The New York Times, contributed to a discussion article reviewing the pop superstar's baller new music video for "Formation."
Beyoncé, it seems, was a big fan of her thoughtful words.
The note, written in Queen Bey's perfect script, reads:
Dear Jenna, Thank you for the beautiful words you said about Formation. Thanks for understanding my heart. Love, Beyoncé
HOLY SH*T. Is your heart still beating, Jenna?! I don't think mine would be.
As Jenna wrote in the Facebook post where she included a picture of the note,
Please hold my repast at Red Lobster, play Formation on repeat because RIP ME
Please hold my repast at Red Lobster, play Formation on repeat because RIP ME Posted by Jenna Wortham on Wednesday, February 10, 2016
In case you haven't read the article in question, it's a seriously intelligent dissection of the music video that rocked the nation last Saturday afternoon, released just 24 hours before Beyoncé's mind-blowing Super Bowl 50 performance.
I'd place a couple bets on which of Wortham's lines resonated with Queen Bey the most. Here's a little sampling:
I think she wants us to know that even though she's headlining a mainstream event like the Super Bowl, she has opinions and isn't afraid to share them, nor is she afraid to do it on a national and global scale. Her idea of swag is keeping hot sauce in her bag while she's decked out in Givenchy. That's baller... It's a dab in a video form, playing on a loop; it's phenomenally delicious. One could also read this as an existential call to action to her listeners and viewers: 'Black women, join me and make your own formation, a power structure that doesn't rely on traditional institutions.'
There's so much love to feel for all of this, I'm not quite sure where to begin. Perhaps, revisiting the music video itself and watching it on repeat would be a good start.
Yep, that feels like the only realistic thing to do right now.
Citations: Beyoncé in 'Formation': Entertainer, Activist, Both? (The New York Times)